United Kingdom
Pakistan set England 167 to win fourth men's T20 international – live updates
Key events
8th over: England 58-4 (Brook 10, Ali 1) Brilliant over from Naawz. He changed his pace throughout and kept the batter guessing. The massive wicket of Duckett is his reward but he also kept the new man, Moeen Ali, quiet with some lovely flight. A wide will annoy him but it's just four runs from the set. At this stage Pakistan were 71-0.
Wicket! Duckett lbw Nawaz 33 (England 57 -4)
Plumb. That is hitting halfway up middle stump. Mohammad Nawaz is back in the attack and he gets Duckett with his second ball. It's a flighted delivery around a fifth stump line and Duckett moves across his sticks to sweep it fine on the leg side. The ball turns and bounces and misses the bat. That's out and a big moment in the game.
Duckett is given out lbw but reviews
This'll be close. I think Nawaz has him on the sweep. Possibly going down leg but I don't think so.
7th over: England 55-3 (Duckett 31, Brook 10) Oh that was close. Brook looks to paddle ramp (I'm making up terms now) the final ball over the 'keeper. The ball misses the pad and the stumps my millimetres. A good start, though, for Iftikhar Ahmed. His skiddy off breaks go for just five from that over. This will be the battle. If England's batters can get on top of Pakistan's spinners they win. Ditto for the reverse.
6th over: England 50-3 (Duckett 27, Brook 9) Catches win matches. We all learn that from the moment we can hold a bat or ball. Nawaz will hope his drop from the first ball of this Rauf over, a dolly at cover, won't cost his team victory. The man he shelled shellacked 88 on Friday and closed the over with a gorgeous inside out cover drive that skips to the boundary.
Mohammad Nawaz has just put down a sitter. A regulation catch at cover. How has he out that down? He went for the reverse cup and shelled it. He could have trapped that on his chest if he wanted. Shocker. He was on the move, shifting to his right. But no excuse. Haris Rauf, into the attack, looks ill.
5th over: England 42-3 (Duckett 25, Brook 3) Three consecutive boundaries for Duckett to end this over. He's playing a little peach of a knock right now. First a pick up over midwicket. Then a bunt down the ground. Then another past the bowler. I don't think he timed a single one but that doesn't matter when you can muscle it to the fence.
4th over: England 27-3 (Duckett 12, Brook 2) What a shot to end the over. It had been a superb over from Hasnain going for just two from the first five balls thanks to well placed yorkers and ripping short ones. But Duckett makes room for himself and squeezes a late cut that bisects two close fielders and races to the boundary. Wonderful. Duckett won't go to the World Cup in Australia but he's such a talent.
"Am I missing something from Nigel Slater's legendary roast potato recipe ? Peel and par-boil spuds then roast them in hot fat.
Isn't that how they've always been cooked ? Starving now …"
Well, Showbizguru, if it ain't broke….
3rd over: England 21-3 (Duckett 7, Brook 1) These two batters put on an unbeaten stand of 139 on Friday and they'll to replicate that tonight. Duckett starts the Wasim over with a slash past backward point for four. Four singles then dribble out across the set. Which is fine. That gives me a moment to breathe.
Get a load of this grab..
2nd over: England 14-3 (Duckett 1, Brook 0) I'm struggling to keep up. It's madness out there. Two wickets in this over has turned the contest on it's head and we're only two overs in. Hales started the over with a commanding pull shot for four but was then well caught, and I do mean well caught, by a full stretch dive at midwicket. Then Hasnain is rewarded for pitching the ball up and Jacks pays the price for swiping at it from the back foot.
WICKET! Jacks b Hasnain 0 (England 14-3)
Pakistan are doing to England what England did to Pakistan on Friday. Hasnain has snared another wicket, beating Will Jacks for pace and kisses the bails. It was far to full to be playing a cross-bat shot of that nature and it skims off the surface and whooshes past the swinging blade.
WICKET! Hales c Usman b Hasnain 4 (England 13-2)
Two wickets in eight balls! This is not going according to plan fior England. That's a mighty grab from Usman Qadir who is at full stretch on the dive at midwicket. Hales is rushed by the extra zip from Mohammad Hasnain and so can't find the timing he's looking for with his cross-bat shot. But all the credit to the fielder. Wonderful catch.
1st over: England 9-1 (Hales 1, Jacks 0) A helter skelter start to the chase. Phil Salt creams the first ball off the back foot for four and later heaves another towards square leg. But can't go for three as he holes out to deep midwicket. Early scalps will do for Pakistan and they've got one.
WICKET! Salt c Wasim b Nawaz 8 (England 8-1)
Phil Salt falls in the first over. He started with a four and hit another one two balls later, but this time he picks out deep midwicket where Wasim takes a good catch on the run.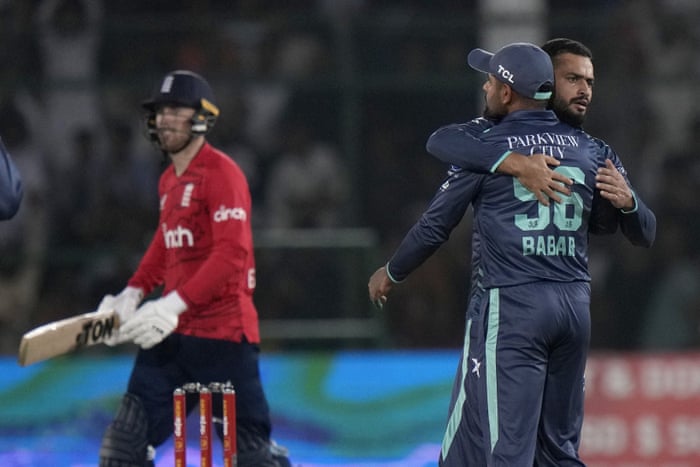 Pakistan set target of 167
At the halfway mark we were talking about a score north of 200. Rizwan and Babar were cantering along as they became the first pair to score more than 2,000 T20 runs together. But spin from Adil Rashid and Liam Dawson slowed things down and an opening stand of 97 was as good as it got for the home side.
Rizwan carried on and fell for 88 in the final over. But a staccato 21 from Shan Masood curtailed his team's charge.
Two sixes from Asif Ali in the final over – which included a double strike from Reece Topley – means England must go at more than eight an over. Given the way this team bats, that shouldn't bee too much of a challenge.
Will I eat my words? Well, if they're as tasty as Nigel Slater's roast potatoes (endorsed by our correspondent Simon Law) then I'll be more than happy to do so.
Off to grab a cuppa. Catch you soon.
20th over: Pakistan 166-6 (Asif 13, Nawaz 1) W-W-6-1-1-6. What an over to see out this Pakistan innings. Asif Ali clatters two sixes – both towards the leg side – after Topley bags a double strike. Why wasn't Ali sent in earlier? I guess we're painting a bullseye around an already shot arrow. 14 from it catapults Pakistan to a competitive, albeit a below par, score.
WICKET! Rizwan c Hales b Topley 88 (Pakistan 152-4)
Topley is on a hat-trick as Rizwan chips him straight to Alex Hales who finally takes a catch at mid-off. A lovely knock from the Pakistan opener. He had to get things moving. I don't think his team have enough but if they do win it they'll know who to thank.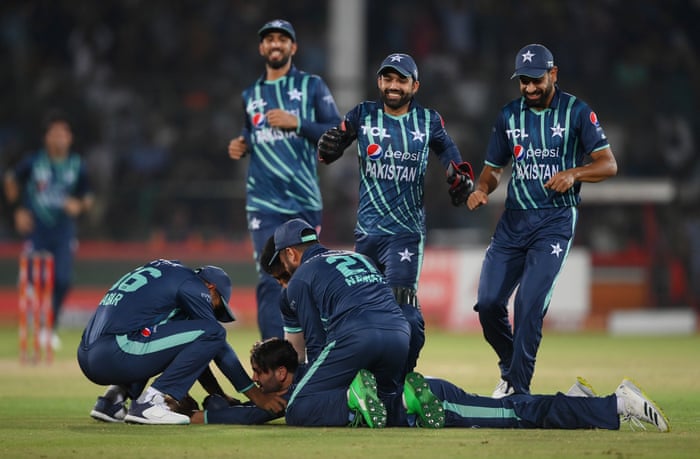 WICKET! Khushdil c Ali b Topley 2 (Pakistan 152-3)
Hard to overly critical of Khusdhil Shah who had little choice but slog at anything he could reach. Unfortunately for Pakistan he can only sky Topley's first ball of the over and Moeen Ali makes it look easy peddling back from the infield.
The batters crossed so Rizwan is on strike.
19th over: Pakistan 152-2 (Rizwan 88, Khushdil 2) A brilliant over from Willey who closes out with 1-31 from his four overs. This final one bags the wicket of Shan Masood goes for just six runs. Willey is full and straight with a little bit of movement through the air. Lovely stuff.
WICKET! Shan lbw Willey 21 (Pakistan 149-2)
That is plumb. Willey is full and Shan Masood's ugly swipe starts and ends in a different post code to the ball. A laboured knock comes to an inevitably disappointing end. I've enjoyed Willey's performance so far. He's showing a different side to his bowling and underlining his worth with an older ball. Fair play to him.
That's the end of Olly Stone's evening with the ball. He closes out his first T20 match for his country with figures of 0-36 from his four overs.
18th over: Pakistan 146-1 (Rizwan 86, Shan 19) He's played a gem of an innings but Rizwan is playing a one-dimensional game at the moment. He's looking to hit every ball towards the leg side but England have plenty of boundary riders making sure he only gets a single. Stone is back into the attack and, oh my, is that reverse swing? I think it might be. Either way, the bowling is straight and well directed so it's hard for the batters to pick a boundary.
A rank half tracker on leg stump makes it easy, though, and Shan finally, finally, gets a boundary behind square. Stone goes shorter so Shan has to hit the next one in front of square, straight to a fielder. Stone then goes very full to Rizwan, who hits in front of square, also straight to a fielder.
17th over: Pakistan 137-1 (Rizwan 82, Shan 13) Rizwan has a clear strategy. England are wise to it though. Not that he's hiding it . The plan is to move across his stumps and swipe it leg side. So Topley, who's back, is cramping Rizwan and making sure he can't free the arms. A dot ball to start followed by a single followed by a couple of twos puts a heap of pressure on Shan who is really struggling to find the middle of his bat. He steals a cheeky single thanks to Salt's decision to throw at the stumps after an under edge. Weird bit of cricket. Topley remonstrates with his 'keeper with waving arms. Another heave from Rizwan towards the leg side is worth just one.
16th over: Pakistan 130-1 (Rizwan 81, Shan 8) Finally, a bit of timing to match the intent. Rizwan charges Willey and smokes him down the ground for four. Shan can't match him though. He's struggling to get it off the square. A cute sweep (to a seamer!) gets him one but England might do well to keep him on strike and in the middle.
15th over: Pakistan 120-1 (Rizwan 74, Shan 6) Shan gets a life thanks to a howler from Hales in the deep. That really should have been snaffled at long off. Rashid doesn't look too pleased. Still, a very tidy over from the England spinner that costs just seven runs. Pakistan's rate has now dropped below eight. England turning the screws now.
Alex Hales has put down a sitter. Shan beaten in the flight from Rashid who is celebrating as it drops to Hales at long off. He had to make up some ground but got there comfortably. You'd have bet the house on him grabbing that. Could that prove costly?
14th over: Pakistan 113-1 (Rizwan 70, Shan 3) It hasn't been the greatest T20 debut for Stone. His first ball on his return to the attack is a filthy short one down the leg side and it's just helped on its way to the fine leg boundary by Rizwan. He then collects two from a well directed yorker and three singles follow. Stone does end with a dot ball from a well disguised slower ball. Maybe I'm being harsh on the youngster. Everyone bowls a bad ball now and then.
Is Rizwan the best opener in T20 cricket?