United Kingdom
Huddersfield 1-0 Luton (2-1 on agg): Championship playoff semi-final – live!
Congratulations to Huddersfield. Their fans are celebrating to the sound of the Dave Clark Five and Blur. Sandstorm did the job before.
Full-time: Huddersfield 1-0 Luton (2-1 agg)
And Huddersfield are going to Wembley. And will play either Sheffield United or Nottingham Forest. Sorba Thomas and Jordan Rhodes' combination took them there. The Mighty Terriers are heading to London and to the biggest, richest, game in the world ever.
90+4 min: Lord John Russell kills time, and the home fans are ready and raring to invade the pitch.
90+3 min: Luton waste the ball, playing it square rather than launching it. Then are caught offside. Their spirits seem broken. You'd have to be mad as a, er, hatter, to tip them now.
90+2 min: All Huddersfield. Rhodes and O'Brien try to kill time in the corner. Then Mendes Gomes is fouled. Luton will get it launched.
90 min: Luton struggling to create an attack. Lots of forwards on, nobody to give them the ball. Four minutes to be added on. Desperate times in Bedfordshire.
89 min: Luton getting ragged and Campbell, lucky not to be booked before, pulls down O'Brien. Adebayo, who was clearly not fit, is going to come on for Luton. He replaces Cornick. It had to be him…his first act is to defend a corner.
88 min: Huddersfield chase another. And Pipa shoots from long distance.
87 min: Luton change: Burke off, and Mendes Gomes, the wild card, comes on.
86 min: Huddersfield change: Sarr comes on, and Duane Holmes off.
84 min: The two subs there combined for Huddersfield, who are heading back to Wembley it seems. Luton fell asleep at the back, and Rhodes was the one player with the nous they didn't want the ball to fall for.
Goal! Huddersfield 1-0 Luton (2-1 agg) (Rhodes, 82)
Toffolo tries an overhead. Misses it. Cameron Jerome is booked for a foul. And Huddersfield have a free-kick. Thomas, the set-piece specialist, finds Jordan Rhodes, and the poacher supreme ghosts past Bell and pokes in.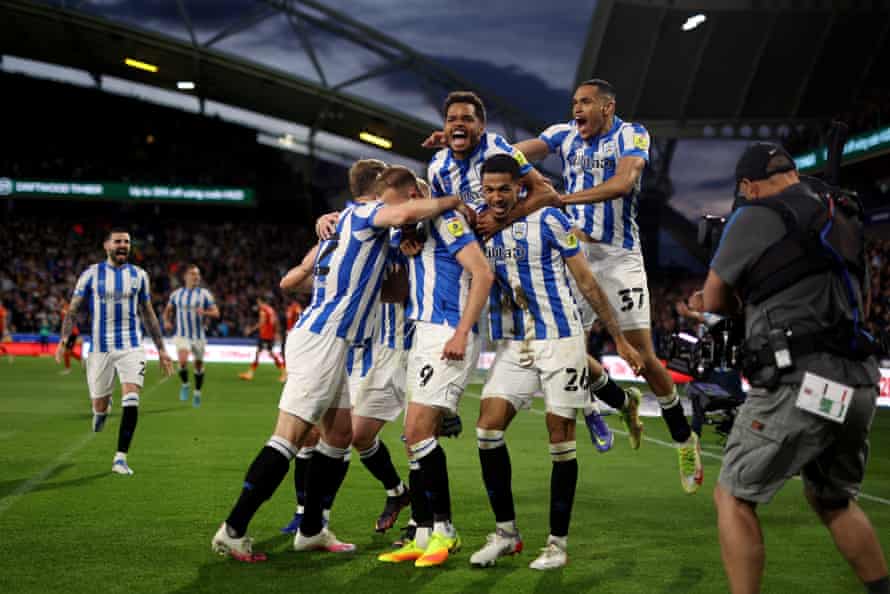 81 min: Back go Huddersfield for more. The witching hour approaches. Matt Ingram clears as Toffolo, this time without fouling him, goes to punch clear.
79 min: End to end to end to end to end….
77 min: Luton free-kick, and Bree takes it, forcing Rhodes to knock it behind. All types of pushing for the corner. And then for the next one when Rhodes heads it away once more. Then Snodgrass takes time, makes space and tees up Cornick…no, a fresh air shot. A severe lack of Premier quality in the finishing.
75 min: Chaos in the Luton box. Ingram makes a fine save after Rhodes creates a chance, and then drops the ball, and then smashes into Toffolo. No VAR, no penalty. That would have been a video-assisted spot-kick. The ball now pinging around both boxes. Soccer!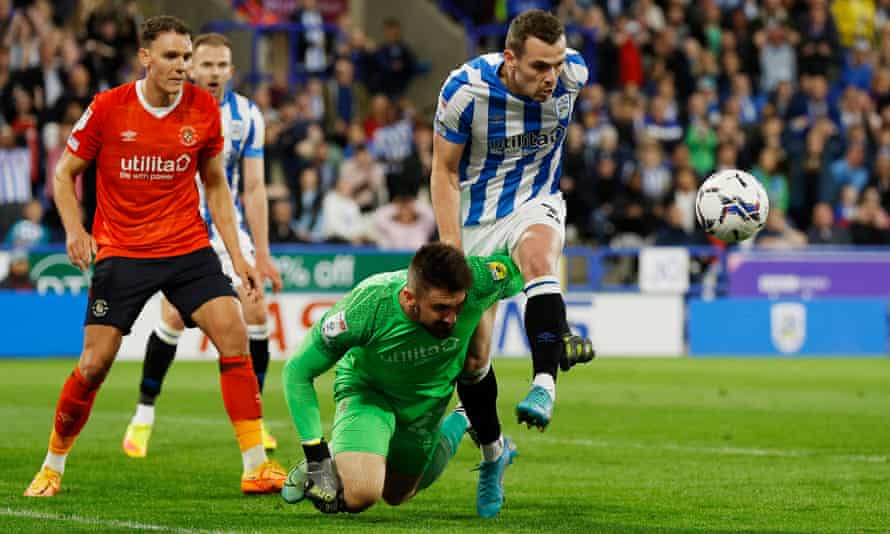 74 min: Mistake by Hogg lets in Cornick, and Nicholls makes a fine save. Bree can get one back in, but takes far too long.
73 min: Edginess abounds now. Just one piece of inspiration, just one mistake and the cash registers start spinning in the mind…
71 min: Luton back in the ascendancy as Bell is fouled. Snodgrass, whips in a free-kick that Jerome knocks wide, falling as he does so. Just past the post, needed someone else to follow it in.
69 min: Snodgrass' corner is cleared. Good, solid defending gets the job done.
68 min: Luton, who have looked a bit tired, take a while over a throw-in. Then Cornick whips the ball in, and it's knocked behind for a corner.
66 min: Luton change: off goes Hylton, and on comes Cameron Jerome, a Hudds lad by birth.
65 min: Colwill has the ball in the net, but a foul on Sonny Bradley means it won't count. Great delivery from Thomas and there's a delay in play as a premature blue pyro is launched to the field.
64 min: Naismith booked for Luton, having clattered Sorba Thomas through the back. The fouls now mounting up.
62 min: Poor from O'Brien, who indulges in shithousery when Campbell kicks the ball away and makes the merest brush past his ear. O'Brien acts as if shot, the silly sod. That's a booking the Huddersfield player was lucky to escape.
61 min: Rhodes and Ingram jump for the ball and, as ever, the foul goes to the Luton goalie. Huddersfield make a first change as Sinani goes off, and on comes Sorba Thomas.
59 min: Some hearty tackles going in, as Luton's Clark is booked for crashing into Jordan Rhodes. There's the first booking.
57 min: A prediction: this is going to extra time and penalties. Too scrappy for a goal to be found from it. We are relying on a mistake, and a personal tragedy, for one to go in.
55 min: Burke launches the ball downfield, and it soon comes back to Luton's defence, as Naismith has to hurtle across to clear.
53 min: Bell heads just wide for Luton, and only a defender's challenge stops him having a clear sight on goal.
52 min: A Luton attack, at last in this half, and Lees has to clear rather hurriedly. A Snodgrass ball finds Burke, and then Hylton fouls the Hudds goalie. There's some afters but the waters are calmed soon enough.
50 min: Sinani gets pace to shoot, but Matt Ingram is equal to the task in the Luton goal.
48 min: More Huddersfield attacking. They are much improved from the first half. Luton rocking back a little.
46 min: And back underway we go. Huddersfield force an immediate corner. And they almost conjure a goal, with chaos in the Luton box, and then Lees can't keep his header down.
Some EFL news before we go back underway.
Half-time: Huddersfield 0-0 Luton (1-1 agg)
We close out with a Huddersfield free-kick, after a Reece Burke foul. Sinani is given the honour, and whacks it into the crowd for the end of the half. Luton had the best chances, through Hylton and Campbell, and the best of the half. They may live to rue being behind.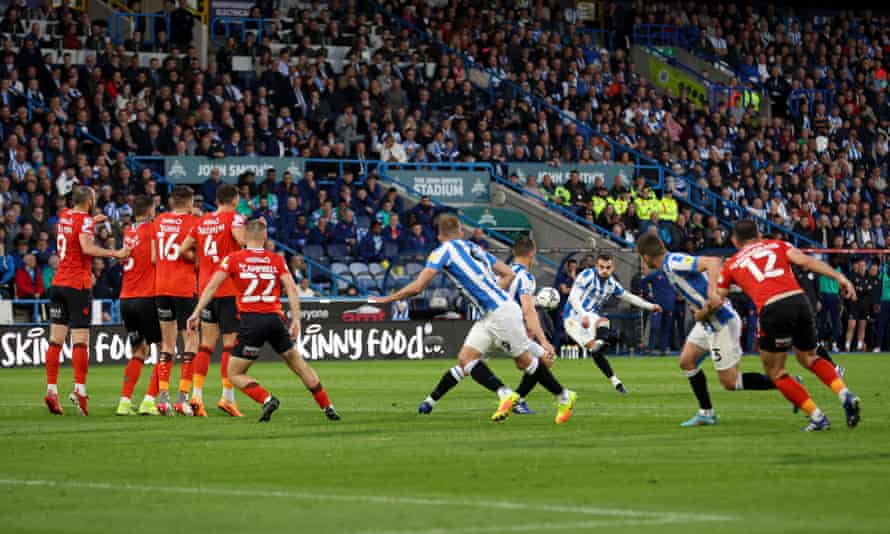 45 min: Two minutes are added on, and it's slowed up a bit. For the first 30 minutes it was breathless.
43 min: Hudds fans boo as Luton mount another attack. Their team will have done well to get to half-time without conceding.
41 min: On comes Jordan Rhodes, who played for Huddersfield

under Herbert Chapman
ten years ago before going on his travels.
40 min: Luton continue to push on. They've been excellent bar the shooting. Oh dear, looks like that's that for Danny Ward. He's pulled up.
38 min: Ward limps off. But seems to be OK.
Richard Hirst gets in touch: "Important question of the day: how tall and thin is the Huddersfield Town keeper? In the picture at the top of the page he looks to have legs like a giraffe. Btw, as a Fulham supporter I can't tell you how wonderful it is not to have the stress of the play offs. Winning at Wembley is a fantastic experience, but not having to undergo it is even better." [pic now below]