United Kingdom
French Open 2022: Djokovic and Nadal in action, Gauff and Fernandez win – live!
Let's have a scoot around the courts shall we? Nadal is 3-2 up against Van de Zandschulp and on serve again. And Victoria Azarenka, the 15th seed, is 0-3 down against the No 23 seed Jil Teichmann of Switzerland.
Djokovic wins first set against Bedene, 6-3. Fierce serving and hitting gives Bedene, serving to save the set at 2-5, a comfortable hold. That's a fine response after being overwhelmed in the previous couple of games. Djokovic, serving for the first set, begins with a rare error on his backhand. He recovers to 40-15, a backhand winner to the back of the court setting up two set points. He takes the first of them when Bedene nets after being pushed further to the back of the court.
Bedene's problem is he can't lay a glove on Djokovic's serve. The No 1 seed's service games are lasting barely a couple of minutes, and he romps through another to lead 5-2.
Djokovic breaks. Bedene eases to 40-0 on his serve before his first double-fault induces nerves that prompt another weak serve, upon which Djokovic capitalises. He moves on to break point, and this time he converts it for a 4-2 lead in the first set. And Nadal has swiftly atoned for his poor first service game by breaking Van de Zandschulp to 15. 1-1.
Rafa Nadal, injury-plagued lord of Paris, is also under way, against Botic Van De Zandschulp of the Netherlands – and his serve is broken in the very first game! And Felix Auger-Aliassime has won the first set against Filip Krajinovic, taking the tiebreak 7-3. And in the time it took me to write that, Djokovic has romped through his third service game with ease.
Bedene is competing hard here, and this is a fine hold. Djokovic settles an absorbing rally with an inch-perfect lob of Bedene at the net. The Slovenian's unforced error then puts him 0-30 down before Djokovic earns himself three break points with an angled backhand winner to the corner. Fiercely accurate serves from Bedene save two of them and the third is saved after Djokovic miscues from the back of the court and hits long. But Bedene is moved all round the court on the following point and eventually succumbs, yielding another break point, which is also saved with the most delicious and audacious of spinning dropshot volleys. Even Djoko smiles in recognition. He then closes it out with a brutal ace. Djokovic is in a match here. 2-2.
Brit news: and it's not heartening – in the women's doubles Heather Watson and Samantha Murray Sharan have lost their first set against Marta Kostyuk of Ukraine and Romania's Elena-Gabriela Ruse 6-2.
Djokovic meanwhile rattles through his service game in the blink of an eye to lead 2-1.
Another seed falls in the women's draw, Angelique Kerber, seeded 21, going out in straight sets to Aliaksandra Sasnovich 4-6, 6-7. Djokovic meanwhile takes Bedene to deuce on the Slovenian's first service game with a rasping forehand winner from the back of the court. Bedene then sends a backhand wide to hand the Serb a break point, which Bedene saves with a canny drop shot. He wins the next point too with a cute drop-volley that kisses the line and goes on to claim a morale-boosting first hold. 1-1.
Thanks Niall. There's a big crowd in on Chatrier to watch Djokovic, whose first serves are a little awry but they don't derail him from a comfortable hold to 15, Bedene testing him in a couple of booming baseline rallies but no more. 1-0, first set.
Novak Djokovic is warming up, about to begin his match with Aljaz Bedene on Chatrier. Time to hand over to Tom Davies, who will guide you through the opening stages.
Gauff beats Kanepi 6-3, 6-4!
Coco Gauff holds to love, completing a comfortable victory on Court Suzanne-Lenglen. She'll likely play Elise Mertens in the last 16; the Belgian is a set and break up in her third-round match.
So, what else is happening? Well, Felix Auger-Aliassime is on Court 14, up against Serbia's Filip Krajinovic – it's 3-3 in the opening set.
On Lenglen, Kanepi had fought back in the second set – but an unforced error at the net hands Gauff another break; she leads 6-3, 4-3.
Fernandez conducts her on-court interview in French – she says reaching the second week is "a dream", and is happy to come through that battle with Bencic. She's now planning some downtime with her family – to make up for putting them through a rollercoaster today.
Fernandez beats Bencic 7-5, 3-6, 7-5!
Bencic misses the chance to apply pressure, missing two gettable returns. 30-0 Fernandez – and three match points as she fires an ace into the corner. On the first, a low slice catches Bencic out – and that's that. That was an excellent game, full of twists and turns – and Laylah Fernandez has won it.
Just as Bencic looks to have regained the psychological edge, Fernandez comes out swinging. She dominates the Bencic serve and breaks again – now, another chance to serve for the match …
Not so fast – Fernandez feels the nerves, her first serve wobbling, and Bencic has a break point. She gets behind the second serve, and her opponent nets a running forehand. We're back at 5-5!
Fernandez holds serve, helped by a couple of Bencic errors – and she's now one game away from victory. Bencic digs deep, some nicely constructed points and a closing ace to hold – but her opponent will serve for the match …
Martina Trevisan has seen off the challenge of Daria Saville, the world No 59 winning 6-3, 6-4. She will face Kerber or Sasnovich in the fourth round.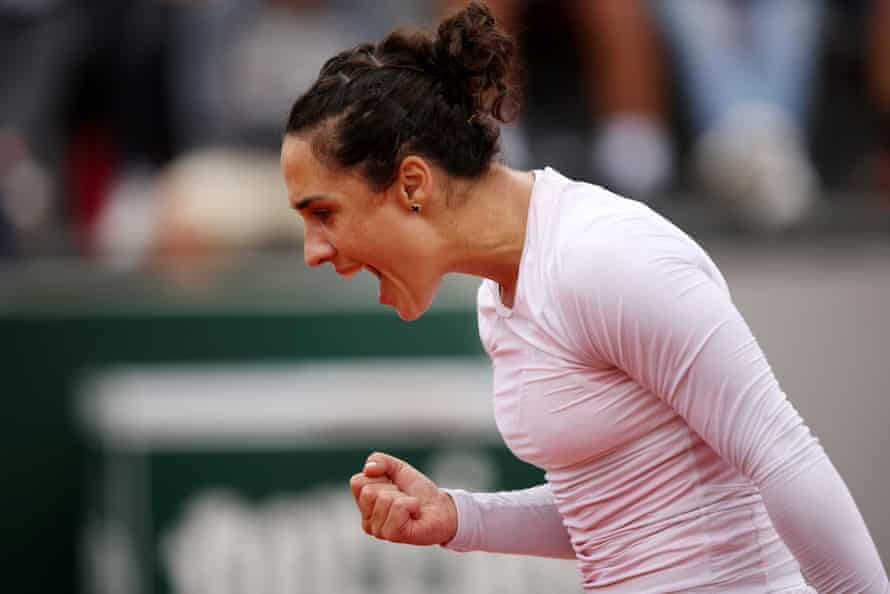 Coco Gauff is motoring towards victory, picking up an early break in the second after taking the first set 6-3. Elsewhere, Aliaksandra Sasnovich has taken the first set against Angelique Kerber, while Elise Mertens has done the same against Varvara Gracheva on Court 7.
This is such a tight battle – one minute Bencic appears to have the upper hand, then Fernandez muscles her way back in. Having fended off break points at 3-2 down, the Canadian has three of her own – the first two are saved with ferocious winners, but Bencic double-faults at the worst possible moment. Fernandez has the break!
Some lunchtime reading from Tumaini Carayol:
Coco Gauff has made a flying start, breaking to lead Kaia Kanepi 4-1 in the opening set. Kanepi is 35 and has been playing on the WTA Tour since 2004 – the year Gauff was born.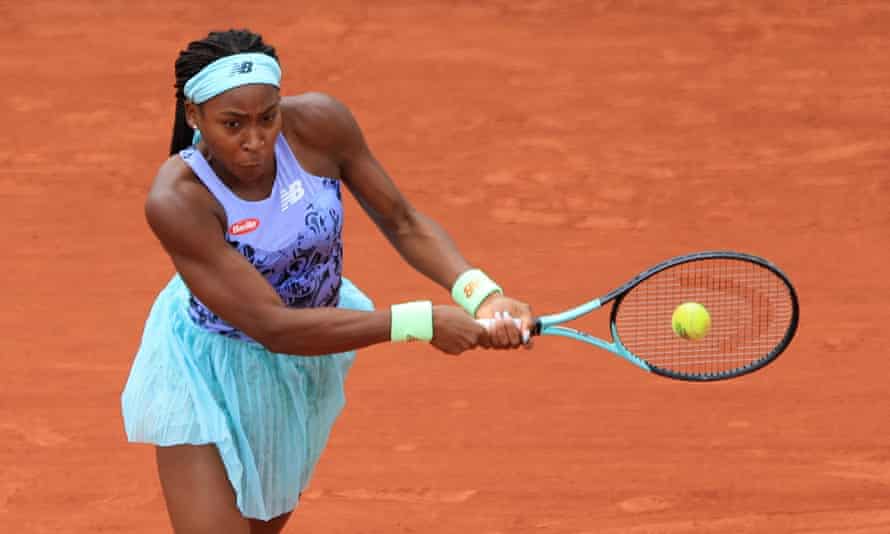 Bencic gets ahead in the third set, breaking Fernandez straight away – but her opponent battles back in typically tenacious fashion, a rangy forehand winner earning the break back. This one could go the distance.
Three more women's third-round matches are getting under way: Coco Gauff v Kaia Kanepi, Angelique Kerber v Aliaksandra Sasnovich and Varvara Gracheva v Elise Mertens. On Court 14, Trevisan leads the second set 4-2 and is closing in on a last-16 place.
Bencic wins the second set 6-3! We're all square on Chatrier, Belinda Bencic breaking again with a tidy winner down the line. That angry exchange with the umpire seemed to shift the momentum in that second set, with Bencic finding a greater focus and intensity than her opponent.
Schwartzman beats Dimitrov 6-3, 6-1, 6-2! Diego Schwartzman has wrapped up victory and moves on to the last 16, where he will probably face Novak Djokovic.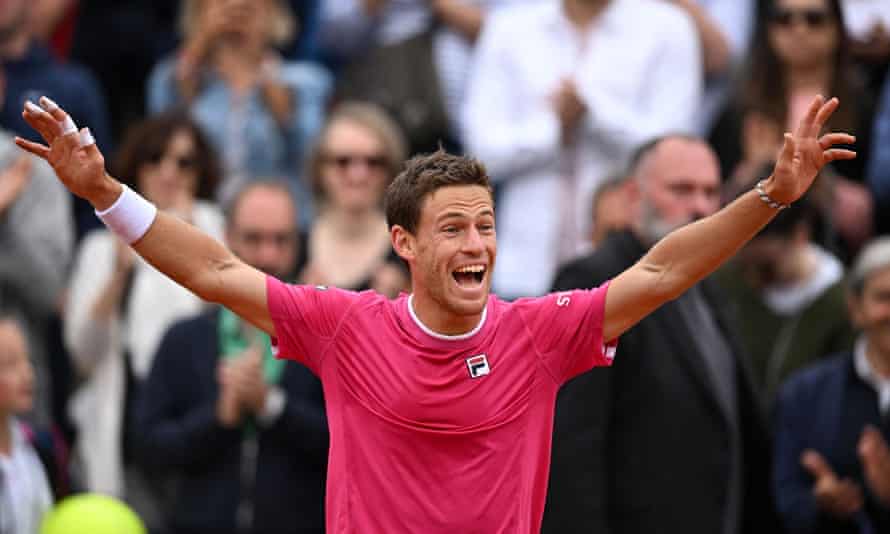 Jamie Murray and Bruno Soares make an early exit from the men's doubles, losing 7-6 (7), 4-6, 6-3 to US pair Mackenzie Mcdonald and Tommy Paul. There's another women's singles match in progress out on Court 14 – Italy's in-form Martina Trevisan has taken the first set 6-3 against Australia's Daria Saville.
Bencic fights off break points to move 3-1 up in the second set; by the way, the winner of this match will play Anisimova in the last 16. With so many of the top women's seeds out already, Bencic is actually the highest-ranked player left on her side of the draw. The No 1 seed, Iga Swiatek, is already odds-on to win the tournament.
At 1-1, Bencic is given a warning for taking too long between points. She's not happy about it at all, engaging the umpire in a prolonged exchange of views. Sometimes that's all you need – she promptly breaks Fernandez to take an edge in the second set.
Muchova retires! It has looked inevitable and after losing serve to go 3-0 down in the third set, Karolina Muchova has to retire. She's clearly devastated – I think she would likely have won, were it not for that ankle injury. Anisimova goes through, offering her opponent a consoling hug at the net.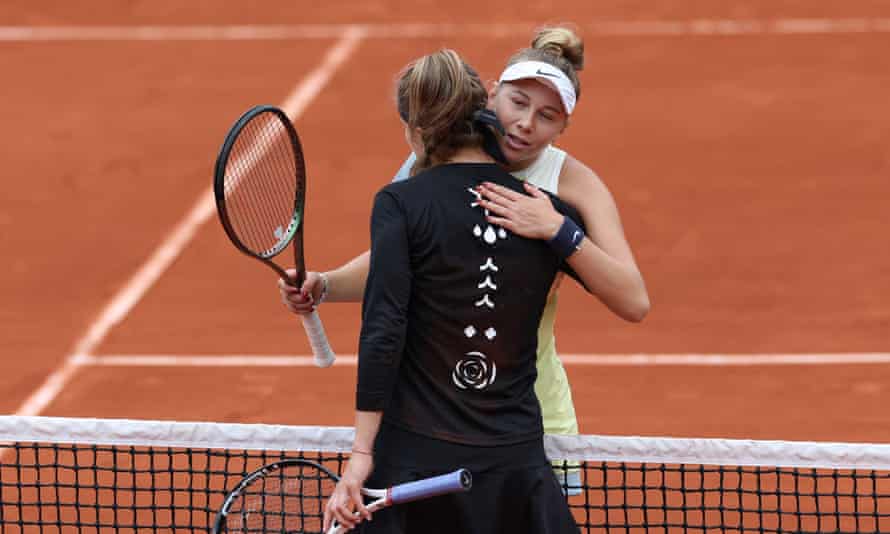 Jamie Murray and Bruno Soares took the second set against Macdonald and Paul, but are in trouble in the decider, trailing 4-1. Back on Lenglen, Anisimova has claimed the second set 6-2, and now leads by a break in the third against her visibly injured opponent.
Leylah Fernandez is a set up on Bencic; this is the first time I've really watched her since the US Open final. Losing to Emma Raducanu must have hurt after such a dramatic run to the final, but maybe losing that game could help in the long run – she doesn't seem to be under the spotlight to the same extent as Raducanu. But readers in North America might correct me on that.
Muchova is still struggling and Anisimova moves a double break up in the second set, leading 5-2 but still struggling to find any consistency.
Grigor Dimitrov is two sets down to Diego Schwartzman, but broke early in the third to lead 2-0. Can you guess what happened next? That's right – Schwartzman broke back twice, and now leads 4-2.
Muchova surrenders her serve, not able to put weight on her ankle, and then gets some further strapping applied. In the next game, things look a little better – she's still moving awkwardly but finds a couple of clean winners. Anisimova holds in the end, to lead 4-2. How much longer can Muchova carry on?
Leylah Fernandez wins the first set 7-5! Bencic has missed set points and with the tie-break looming, comes under pressure from Fernandez, who dials up the intensity to force a set point – and she converts when Bencic sends a looping slice beyond the baseline!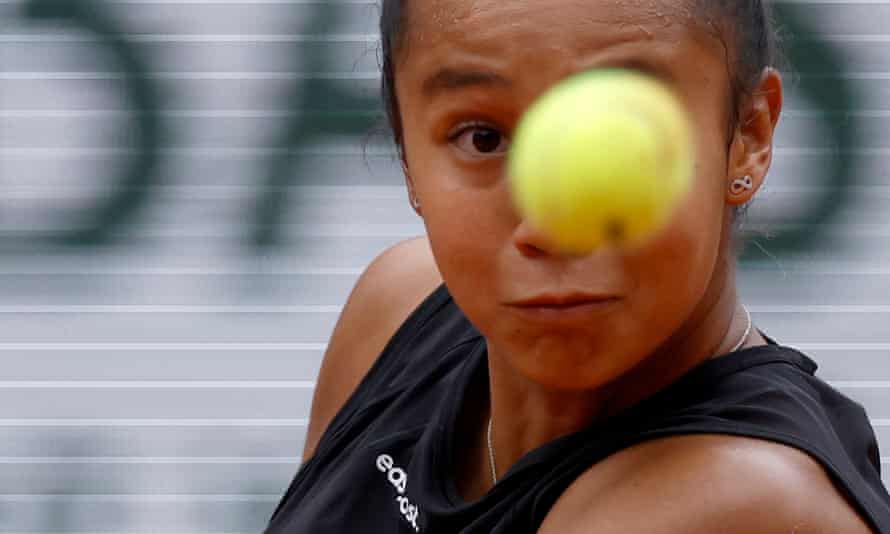 Too many unforced errors from Fernandez, and Bencic breaks again before serving for the set. She earns set points but can't convert them – one half-chance at a passing shot down the line landing just wide. Fernandez breaks back, and it's now 5-5 in the first set.
Muchova breaks back in the second set, but is then forced to take another medical timeout after slipping while chasing a shot, and turning her ankle. That looked nasty, and she's visibly upset as the trainer straps up her right foot; the existing thigh injury is on her left leg. It may be a struggle for her to continue.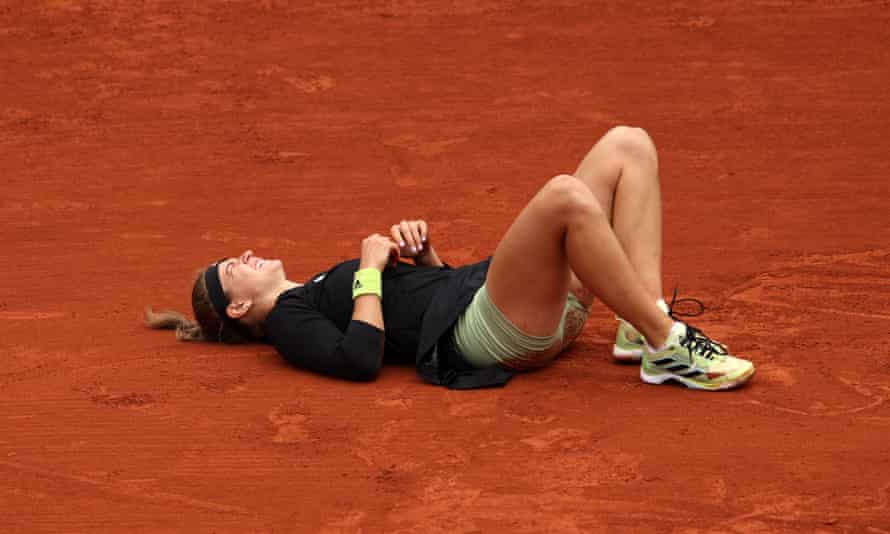 Schwartzman has taken control of his match with Dimitrov, racing through the second set to lead 6-3, 6-1. Elsewhere, Salisbury and Ram have won their doubles match against Kecmanovic and Monroe 6-3, 7-6 (5).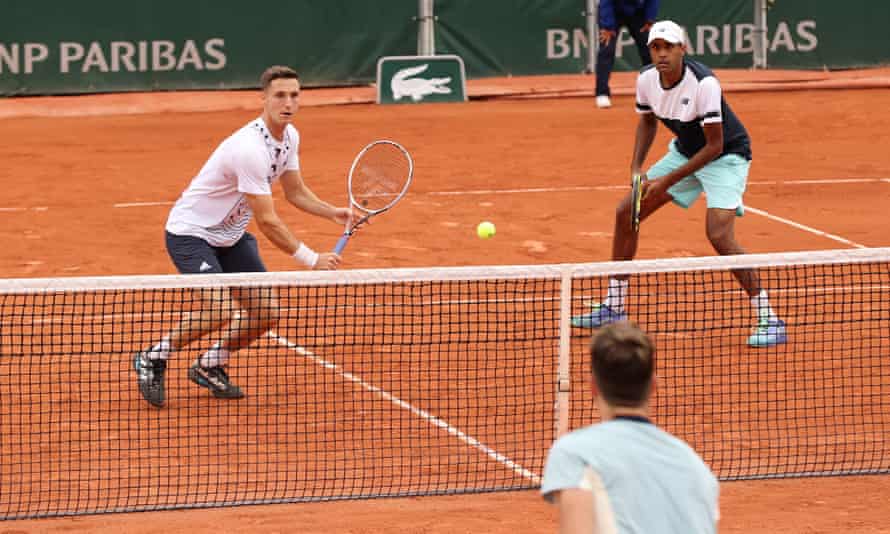 A shift in momentum as Bencic breaks back, then puts Fernandez under real pressure in the seventh game – but the Canadian holds steady to lead 4-3, the first set back on serve.
On Suzanne-Lenglen, Muchova takes a medical timeout to have a troublesome thigh strain strapped. Anisimova breaks to open the second set and Muchova decides the strapping isn't helping, promptly ripping it off at the changeover.
On Suzanne-Lenglen, nobody appears willing or able to win this first set. Muchova missed a set point as Anisimova broke back, and the American then raced 5-0 up in the breaker. Then came a quadruple-fault, if you will, another missed set point from Muchova.
Now Anisimova has a set point, but mishits a volley – and Muchova does claim the set when her opponent sends a drop shot wide! The Czech leads 1-0 after an 80-minute first set, with neither player enjoying it much.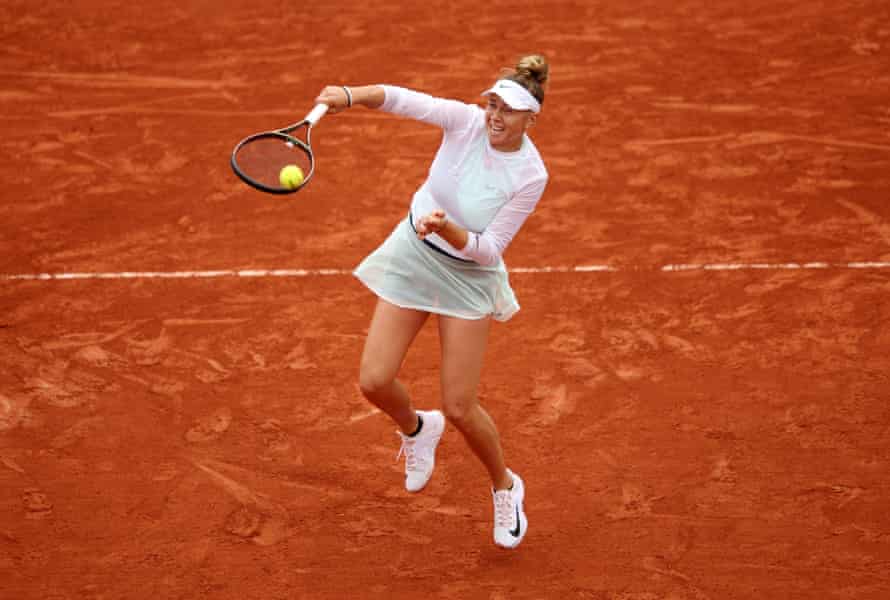 It's been a strong start from Fernandez, who is moving and striking the ball well; she's got an early break and leads Bencic 3-1. Elsewhere, Diego Schwartzman has wrapped up the first set against Dimitrov despite some wobbles on serve.
Cam Norrie is the last Briton standing in the singles draws, but there is plenty of UK interest in the men's doubles. Joe Salisbury and his American partner Raveej Ram are the top seeds, and currently lead their second-round match against Miomir Kecmanovic and Nicholas Monroe 6-3, 4-4.
It's not going so well for Jamie Murray and Bruno Soares, who have just lost the first set in a tiebreak to US pair Mackenzie Mcdonald and Tommy Paul. Neal Skupski is in mixed dubs action later, alongside another American, Desirae Krawczyk.
Bencic and Fernandez are warming up on Chatrier, after a chat with the impossibly youthful umpire, Manuel Absolu. He's 31, but has been a grand slam umpire for nine years – so certainly not an Absolu beginner. Anyway, let's move on.
Muchova saved a set-point on serve against Anisimova, and has now broken her American opponent to lead 6-5. Schwartzman still has a break advantage over Dimitrov, leading 4-3 in the opening set.
Last night, Stefanos Tsitsipas made it through to the third round after another tough battle – this time with the Czech qualifier Zdenek Kolak, who had set points to force a decider before Tsitsipas found a run on form to win the fourth-set tie-break.
"He drove me crazy. It was really frustrating," Tsitsipas said in his on-court interview. "He was putting every part of his body behind the ball. I'd like to congratulate him for this effort."
In the late match on Chatrier, home favourite Alize Cornet defeated the former champion Jelena Ostapenko 6-0, 1-6, 6-3. She'll play China's Zheng Qinwen, victor over Simona Halep, in the next round.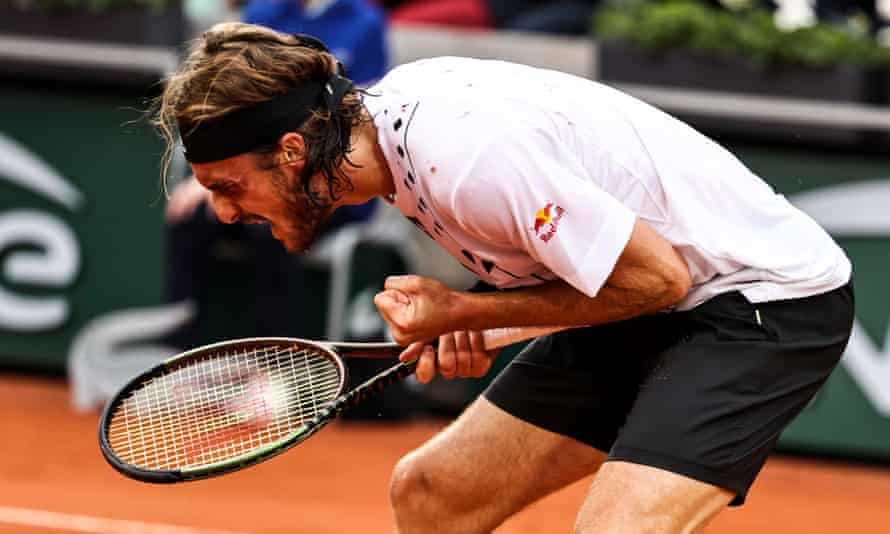 It's a big weekend for sport in Paris, and you can join Dave Tindall for all the Champions League final buildup here …
The first match on Court Philippe-Chatrier doesn't start for another half-hour or so, but we are under way elsewhere. On Suzanne-Lenglen, Amanda Anisimova and Karolina Muchova are level at 2-2 and on serve. On Simonne-Mathieu, Diego Schwartzman has an early break on Grigor Dimitrov.
Philippe-Chatrier (from 11am BST)
(14) Belinda Bencic v Leylah Fernandez (17)
(1) Novak Djokovic v Aljaz Bedene
Sloane Stephens v Diane Parry
(27) Sebastian Korda v Carlos Alcaraz (6)*
*not before 7.45pm BST
Suzanne-Lenglen (from 10am BST)
(27) Amanda Anisimova v Karolina Muchova
(18) Coco Gauff v Kaia Kanepi
(26) Botic Van De Zandschulp v Rafael Nadal (5)
(3) Alexander Zverev v Brandon Nakashima
Simonne-Mathieu (from 10am BST)
(18) Grigor Dimitrov v Diego Schwartzman (15)
(21) Angelique Kerber v Aliaksandra Sasnovich
(15) Victoria Azarenka v Jil Teichmann (23)
(10) Cameron Norrie v Karen Khachanov (21)
Court 7 (from 10am BST)
(10) J Murray & B Soares v M Mcdonald & T Paul
Varvara Gracheva v Elise Mertens (31)
(23) John Isner v Bernabe Zapata Miralles
(4) D Krawczyk & N Skupski v S Aoyama & H Nys
Court 14 (singles only)
Martina Trevisan v Daria Saville
(9) Felix Auger-Aliassime v Filip Krajinovic
It's the sixth day at Roland Garros and things are heating up, with the men's and women's singles draws reaching the third-round stage, where seeded players start eliminating one another and potential paths to glory become clearer.
Speaking of which, there can scarcely have ever been a grand-slam draw more stacked than the top half of the men's tournament where Rafa Nadal, owner of 13 [thirteen!] French Open titles, is somehow only third-favourite to reach the final.
Botic Van De Zandschulp is the unfortunate soul tasked with trying to derail Nadal today. Defending champion Novak Djokovic faces Aljaz Bedene, while pretender to the throne Carlos Alcaraz will take on Sebastian Korda in the evening game.
Elsewhere around the courts, we'll see Coco Gauff, Sascha Zverev, and Cam Norrie, plus more British interest in men's doubles. First up on Chatrier, though: a potential belter between Belinda Bencic and the US Open runner-up, Leylah Fernandez. On y va!
Source link