Key events
Bayern surge forward again, Sane reaching a dead end on the right and going back to Kimmich on the edge of the box. He spots Choupo-Moting peeling away and with his back to goal, the German takes the chipped pass on his chest before scissor-kicking into the bottom corner. But he had strayed a nose offside.
55 mins: Upamecano lets a simple pass roll under his feet and out for a corner and Tuchel vents his frustration by tugging madly at the crotch of his tracksuit bottoms. But the corner comes to nowt.
Goal! Bayern 4-0 Dortmund (Coman 51)
Bayern respond by haring up the pitch to score a beauty on the counter. It starts in the centre circle with the eventual scorer, who sweeps the ball out to Sane on the right. Sane cuts inside and when Muller, on the edge of the box, draws his marker toward the ball, the winger picks out his counterpart who is arriving from the other flank. Muller, inexplicably aware of the player charging in being in, lets the pass run through his legs and Coman is left with a tap-in. Wow.
51 mins: Wolf receives the ball on the right touchline, looks up, and bends a lovely angled through-pass to Haller, whose touch just lets him down.
48 mins: Bayern pick up where they left off, Davies charging down the left and nudging back to Coman. The Frenchman's cross is a touch deep but still finds Muller, whose header across the face of goal is cut out by Sule.
46 mins: We're back underway. Dortmund have brought on Ozcan and Malen for and Ryerson and Brandt.
AA Papakyriacou writes in: "Been a dortmund fan for thirty years and usually watch these games to the end. This time, I switched off after the third goal. If (as seems likely) Bayern win a (effing) 11th title in a row, then where does the bundesliga go (arguably the alarm bells should have sounded at, I dunno, maybe the fifth?). The damage to the national team (which looks barely competitive these days – except when we're playing Portugal for some reason) and to the league's international standing seems pretty terminal at the moment. What are the fixes though? I really don't fancy the idea of nation states buying BL teams so I'm really at a loss."
Meanwhile, in west London…
Half-time! Bayern 3-0 Dortmund
Dortmund are given 15 minutes of relief. It's been nightmarish stuff for them: a perfect storm of hideous errors, collective collapse and opponents in scintillating form. Over to you, Edin Terzić.
46 mins: Once again Coman is released in behind the defence down the left. He cuts into the box and is one-on-one with Kobel but the keeper does well not to commit himself and Coman eventually slips over trying to take the ball around him. That could have been four.
45 mins: Reus wins a free kick on the left. Guerroro's inswinging cross is eventually cleared and it's left to Reus to break up the Bayern counter. A morale-sapping half for the visitors.
43 mins: Schlotterbeck, a doubt going into this game, has gone off injured. On comes Hummels.
41 mins: Coman slaloms infield from the left, works himself a couple of yards and gets his shot off from 20 yards. It's perfectly struck but right down Kobel's throat.
37 mins: Bayern sweep forward majestically, Choupo-Moting fizzing the ball out to Pavard, who controls instantly and lays off to Muller, who feeds Sane, who looks for the defence-splitting ball to Coman … but just gets his angles wrong. Nearly magical.
34 mins: Having drifted out to the left, Brandt looks up and lofts the ball towards Guerrero, who heads down for Ryerson on the edge of the box, but the full-back snatches at his shot and the ball sails over.
30 mins: Dortmund launch an attack down the left! But Ryerson's cross is cut out by Upamecano, Bayern start playing keep-ball and the olés ring out.
26 mins: Bayern aren't easing up. In fact Upmecano is playing as an auxiliary midfielder, stepping out of defence to ping passes into the feet of the wingers. The visitors can't get out of their half.
Goal! Bayern 3-0 Dortmund (Muller 23)
Dortmund enter kamikaze mode. Given the ball from a goal kick, Ryerson sleepwalks down the line into trouble and is robbed by Sané. The winger whips an early shot at goal from the edge of the box and Kobel lunges to his right and gets to it, but all he can do is push the ball out to the feet of Muller, who once again helps himself from close range. Game over?
Kári Tulinius writes: "As a Stuttgart supporter, I should have other things on my mind than who wins the title, but the sinking feeling when Kobel miskicked that clearance was a lot deeper than at any of the three goals VfB shipped today. That Bayern have equaled Dynamo Berlin's Stasi-aided ten league titles in a row is bad enough, I can't bear the idea they'll outdo them. Oh no, they just scored another."
Goal! Bayern 2-0 Dortmund (Muller 20)
Goretzka plays a neat one-two with Muller and rattles a low shot at goal which a deflected wide. De Ligt attacks the resulting corner with a towering header from the penalty spot and Muller meets the ball at the back post to tap home from under the bar. Dortmund are in danger of being left for dead here.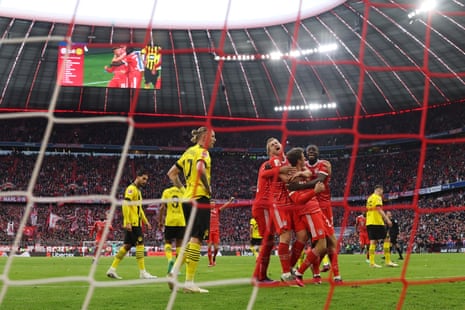 16 mins: Davies swings in a nice cross from the left and Goreztka meets it with a strong header but it's straight at the keeper. Kobel settles his nerves. Maybe.
Goal! Bayern 1-0 Dortmund (Upamecano 12)
Oh lordy – utter disaster for Kobel. Upamecano hits a straight long pass from centre back towards Sané. Kobel comes out of his box to easily intercept … but, under no pressure, his right foot connects only with fresh air. His head is in his hands as the balls sails past him and trickles into the net.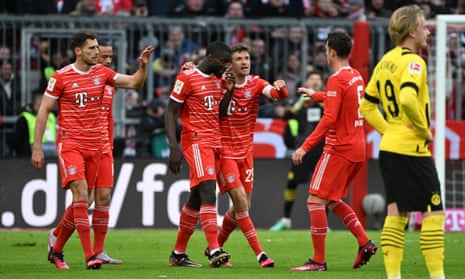 12 mins: Emre Can gets himself a very early booking for steaming in on Goretzka.
10 mins: Dortmund are looking slick. Wolf strokes a high pass into the chest of Haller, who holds up well and lays off to Guerrero before the move breaks down when it gets to the onrushing Ryerson – but that was smooth stuff.
7 mins: A half-chance arrives for Dortmund at Wolf links up nicely with Brandt, who dances forward and feeds Reus charging down the right. He takes the shot from a tight angle but De Ligt slides in to block at the last.
3 mins: Bayern settle into some early possession. Coman is the primary outlet on the left but he can't quite spring the Dortmund offside trap. A messy tangle between Ryerson and Choupo-Moting is followed by Brandt hacking down Kimmich at full stretch. Whistles resound.
1 mins: And we're away. Dortmund kick off and blam it long. A bit of head tennis before Reus wins an early corner. Cleared. The Allianz Arena is in suitably deafening voice.
Nearly time to go. Plenty of hugs deferential handshakes as the two sets of players converge in the tunnel, which is a shame. But game faces are quickly affixed.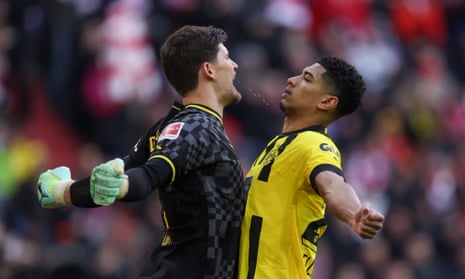 Man of the hour Thomas Tuchel has a pre-game chat with Bastian Schweinsteiger (who's fast turning into a Dolph Lundgren doppelgänger)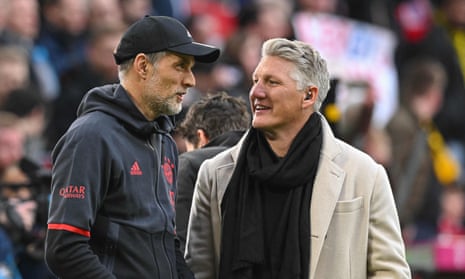 … but still some work for him to do before he's worth a place in England's All-Star Double-Barrelled XI, which for my money is: Peacock-Farrell; Maitland-Niles, Carter-Vickers, Fosu-Mensah, Alexander-Arnold; Ward-Prowse, Loftus-Cheek, Smith-Rowe; Oxlade-Chamberlain, Hudson-Odoi, Calvert-Lewin.
Or am I wrong?
Among Dortmund's subs this evening: Jamie Bynoe-Gittens, an 18-year-old London-born forward who has broken into the first team this season having been poached from Man City's youth setup a couple of years back. Inevitable Sancho/Bellingham comparisons with be drawn, not helped by the fact that the he has impressed hugely with his explosive attacking displays this season, including three goals from the bench. One to keep tabs on.
A bit of pre-match reading:
A double-boost for Dortmund, then, as Gregor Kobel makes the lineup after a late fitness test alongside Julian Brandt. But Jamal Musiala and Eric Maxim Choupo-Moting, both pre-match doubts, also make the grade for Bayern, the latter on the bench. Lucas Hernandez however does not. The man to watch today? Raphael Guerreiro, whose recent move to central midfield has paid dividends and will be looking to get behind Leon Goretzka and Joshua Kimmich to expose the Bayern backline. If Dortmund are to get a result today they'll need Guerreiro to turn it on and he is eminently capable.
Bayern: Sommer; Davies, Upamecano, De Ligt, Pavard; Kimmich, Goretzka; Sané, Müller, Coman; Choupo-Moting.
Subs: Ulreich, Gnabry, Mané, Cancelo, Blind, Gravenberch, Mazraoui, Musiala, Stanisic.
Dortmund: Kobel; Schlotterbeck, Wolf, Süle, Ryerson; Guerreiro, Can, Bellingham; Reus, Haller, Brandt.
Subs: Meyer, Oscan, Dahoud, Hummels, Moukoko, Modeste, Malen, Adeyemi, Bynoe-Gittens
Eat, pray, love. Then win the league. Thomas Tuchel is back! Having withdrawn to an Indian health retreat after being sacked by Chelsea in October and enjoyed a month of Ayurvedic rejuvenation therapy (us neither), the rejuvenated supercoach has returned, wanderlust sated, to the belly of the beast.
The beast in question is of course Bayern Munich, who ruthlessly parted ways with Bart Simpson Julian Nagelsmann this week and wasted no time in appointing another wündercoach to pick up the pieces. A point off the top of the Bundesliga with 10 wins from 10 in the Champions League was deemed ersatz for Nagelsmann, so his replacement arrives with a fairly daunting mission. First on his hitlist: the club that made him a superstar.
The good news is that a win here would put crisis-club Bayern on track for the title. While Dortmund have largely led the way all season, their rivals have reeled them in bit by bit, and victory today would see Bayern leapfrogging their way to the summit.
The bad news is that Dortmund have been near enough perfect this year, dropping just two points from 30 and outscoring everyone else in the division. Set against that is the fact that Bayern have won the last eight games against Dortmund here by an aggregate 33-6.
Either way, goals should at least be on the menu, with these teams averaging five a game between them and, just to make things interesting, both first-choice keepers out injured. The stakes couldn't be higher – this should be a howitzer. Stay tuned!