United Kingdom
Anthony Joshua v Jermaine Franklin: world heavyweight boxing – live
Key events
Round 4
Joshua enjoys his best round of the fight so far by loosening up and keeping his opponent at distance. He keeps working that powerful jab from the outside, landing it almost at will and swelling Franklin's right eye. There's an explosive exchange along the ropes near the end of the round, but Joshua emerges unscathed.
Guardian's unofficial score: Joshua 10-9 Franklin (Joshua 39-37 Franklin)
Round 3
Franklin walks right into a right hand, but keeps moving forward undeterred. Joshua has been more active and keeps landing shots, but the American has made a habit of immediately throwing back. Franklin lands a good inside left hand to the body. Joshua lands a big shot right at the bell, but Franklin walks back to his corner smiling. Another close round but Franklin has done just enough to edge it against Joshua, who looked no more comfortable in the third round than in the previous two.
Guardian's unofficial score: Joshua 9-10 Franklin (Joshua 29-28 Franklin)
Round 2
Franklin lands an overhand right and Joshua cracks back with a vicious counter. Franklin lands another right hand and Joshua is bleeding heavily from his nose. Joshua lands a big straight right, the best punch of the fight so far. Both men landed solid shots but nothing of major consequence. Joshua just nicks the round on our card, but still looking worryingly stiff while Franklin keeps moving confidently forward. AJ has landed 19 of 65 punches so far (including 11 of 44 jabs), according to Compubox's punch statistics, compared to nine of 53 for Franklin.
Guardian's unofficial score: Joshua 10-9 Franklin (Joshua 20-18 Franklin)
Round 1
There's the bell! And Joshua immediately connects with a crisp jab. The Watford man's career-high weight cuts an intimidating presence that's dwarfing his much-smaller American foe, but AJ does look somewhat tentative and tense as this mostly feeling-out round progresses. Joshua continues to score sparingly with the jab behind a tight guard, but any thoughts that Joshua would come out guns blazing have been swiftly dismissed.
Guardian's unofficial score: Joshua 10-9 Franklin (Joshua 10-9 Franklin)
The fighters have been announced. The final instructions have been given. The seconds are out. We'll pick it up with round-by-round coverage from here!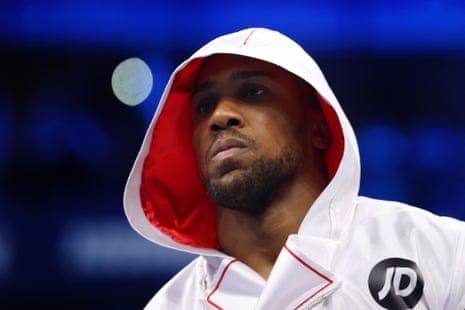 The fighters are making their entrances! First it's Franklin, a full-time roofer and part-time boxer until last year, who goes off as a 7/1 underdog with a life-changing opportunity in front of him. And now it's Joshua, returning to his old O2 stomping grounds for the first time since stopping Dominic Breazeale way back in 2016.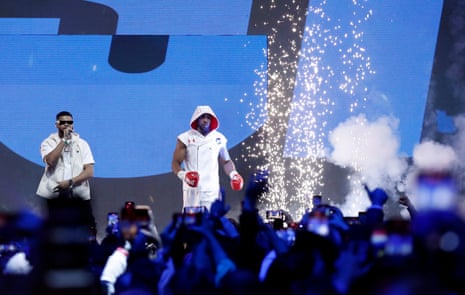 The O2 is nearly packed to capacity as we await the fighters' ringwalks. In the meantime, let's pour one out for the great Ken Buchanan, the former undisputed world lightweight champion from Scotland who passed away this morning.
Fabio Wardley has seen off Michael Coffie in the final undercard bout of the night. The British heavyweight champion was unloading his American foe along the ropes when referee Harold Foster intervened at the 0:45 mark of the fourth round. A very premature stoppage, surely. Next up: Anthony Joshua v Jermaine Franklin.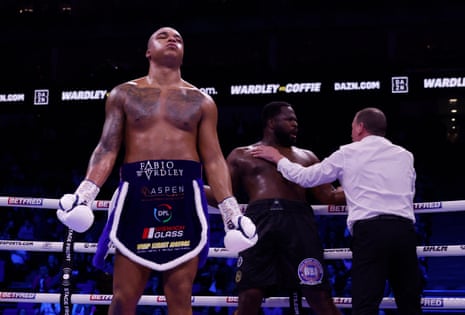 Hello and welcome to the O2 Arena for tonight's non-title fight between Anthony Joshua and Jermaine Franklin. It's the textbook definition of a crossroads bout for Joshua, the former two-time world champion who is coming off consecutive losses to Oleksandr Usyk. The 2012 Olympic gold medalist desperately needs a career-reviving performance against Franklin, a fringe contender from Saginaw, Michigan, who earned his shot as Joshua's comeback opponent by giving Dillian Whyte a scare in November.
"We can't look back," Joshua said this week. "We're only looking forward and I see a bright future and that kind of keeps me in good spirits."
The 33-year-old Joshua will come in at the heaviest fighting weight of his career after tipping the scales at 255.4lb (115.8kg) yesterday. That is nearly 11lb (5kg) heavier than his last fight, the August rematch against Usyk.
Franklin weighed in at 234.1lb (106.2kg), or 23lb (10.5kg) lighter than when he lost for the first time in his career to Whyte last year.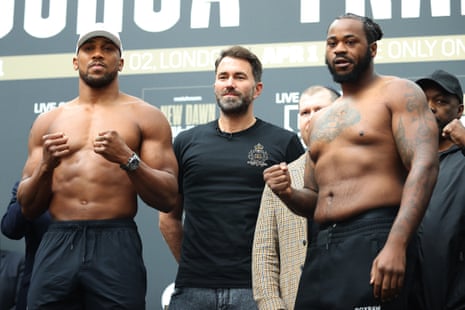 Bryan will be here shortly. In the meantime here's Donald McRae's lookahead to tonight's main event at the O2.
Source link