Netherlands
Waarom is (gele) Pakistaanse mango zo veel lekkerder dan gewone mango?
Als we je zouden vragen om een mango te tekenen en inkleuren, is de kans groot dat je een tekening zou inleveren van een overwegend groen exemplaar, met eventueel een zweem van rood en geel. Hartstikke lekker, die mango, maar wij vertellen je waarom je eens een gele, Pakistaanse mango zou moeten proeven.
Zo veel soorten
Best gek – en jammer! – eigenlijk dat we hier in het Westen maar één soort mango lijken te kennen. In andere delen van de wereld is de keuze wat betreft mango's namelijk reuze. Ga bijvoorbeeld eens kijken in India of Australië en je zult versteld staan van de diversiteit.
Maar er is een soort in het bijzonder die we vandaag willen uitlichten, die we in de volksmond ook wel aanduiden als Pakistaanse mango of honingmango. Die laatste term verklapt natuurlijk al een boel, want het is waar: de gele Pakistaanse mango's beloven honingzoet te zijn. Uitzonderlijk zoet zelfs. De schil van deze mango is geel.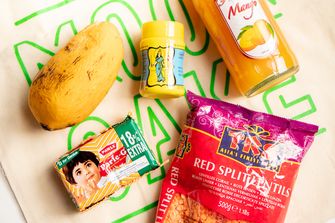 Sappig
We proefden deze mangosoort voor het eerst dankzij Jonneke de Zeeuw van Mooncake die ons er vol enthousiasme over vertelde. Zij tipt dat de vruchten van juni tot september te koop zijn bij Saeed's Curry House in Amsterdam. Bij dit adresje aan de Javastraat worden zó veel Pakistaanse mango's geïmporteerd, dat eigenaar Saeed zelfs zijn familienaam en foto's van zijn kinderen en neefjes en nichtjes op de dozen mocht zetten.
Smacht je in de zomermaanden naar een sappige mango, dan ga je naar de winkel van Saeed, dat weet inmiddels iedereen in Amsterdam-Oost.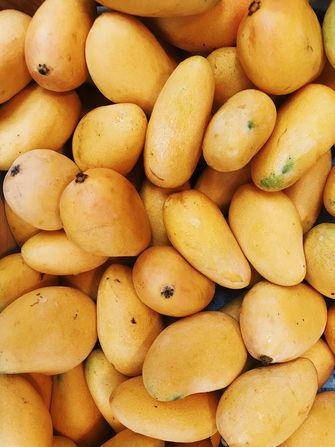 Hoe smaakt gele Pakistaanse mango?
Wat deze vrucht een omfietsmango maakt, is niet alleen die zoete, aromatische smaak, het is ook de textuur. Een Pakistaanse mango bevat vruchtvlees zonder draadjes. Volop smelt-in-je-mond-effect dus.
Mocht je je afvragen hoe je het meest rijpe exemplaar uitzoekt uit een doos van deze mango's: zodra de schil van deze mango begint te rimpelen en zijn glans verliest, is 'ie perfect rijp om aan te snijden. Of bewaar ze vanaf dat moment in de koelkast tot gebruik.
Mooncake leert je bovendien ook nog even hoe je het beste een mango eet.