Europe
Biden administration reacts with caution to China protests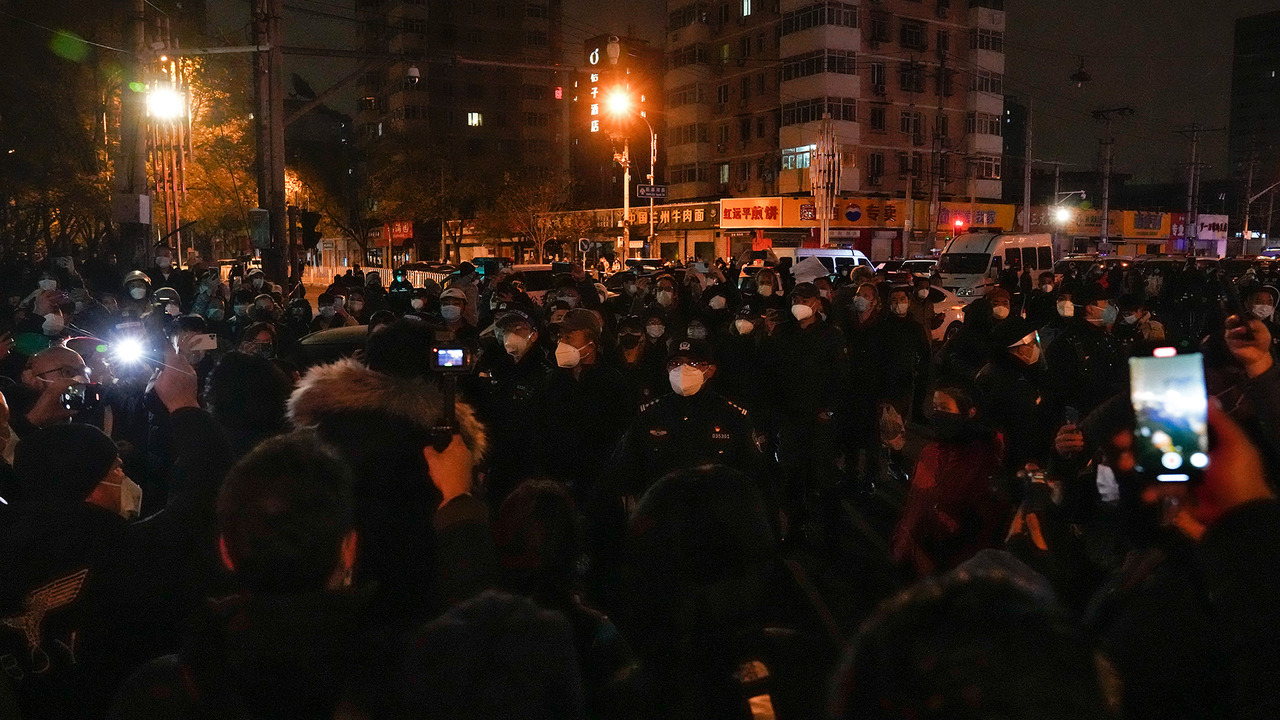 "As we've said, we think it's going to be very difficult for the People's Republic of China to be able to contain this virus through their zero Covid strategy," the spokesperson said in the statement, adding that measures such as boosting vaccination rates were more useful. "We've long said everyone has the right to peacefully protest, here in the United States and around the world. This includes in the PRC."
During the White House press briefing later in the day, NSC communications strategist John Kirby said Biden had been briefed on the events in China. Kirby acknowledged that Biden has warned that the world's democracies face challenges from autocratic movements, but he declined to go beyond the NSC comment that the U.S. supports the right to peaceful protest.
Sen. Marco Rubio (R-Fla.) and Rep. Chris Smith (R-N.J.) called the administration's stance on the protests "cowardly." The two lawmakers accused Biden of failing to "stand up to the CCP and stand in solidarity with the Chinese people," in a statement issued Monday.
As of mid-day Monday in Washington, the protester numbers had thinned in Beijing and Shanghai over the previous 24 hours. But reports of demonstrations spreading to the city of Hangzhou on Monday indicated that authorities have yet to quell the anger — including calls for an end to Xi's leadership — that has brought people into the streets.
Biden aides are keenly aware that protest movements can be unpredictable. Protests in China are not unusual, but they are often limited in scope and location, and the Chinese Communist Party tends to move quickly to quash anything it perceives as a serious challenge to its authority.
A U.S. official familiar with the issue, who like others for this story spoke on condition of anonymity to discuss internal deliberations, said the Biden administration had to consider an array of factors in deciding how to respond. A strident U.S. statement, for instance, could lead the Chinese government to turn the focus on the United States and allege "foreign interference" rather than addressing the frustrations of the protesters.
Despite the acrimony, the United States still wants to maintain a base level of stability and cooperation with China, an important global power and economic partner whose help it wants on everything from pandemic preparedness to battling climate change.
The Biden team's response to the China protests will likely contrast starkly with its quick and vocal support at high levels for protests in Iran, which have been ongoing since mid-September. But Iran is at best a regional power whose Islamist regime has been an avowed enemy of America for more than 40 years, and there is little trade or other cooperation between the two countries.
Officials across the U.S. government are nonetheless watching the developments in China closely — including how the government treats journalists covering the protests — and they are engaged in regular interagency discussions about how to respond, the U.S. official said.
The conversations include Biden administration health officials who as recently as Monday were sharing with the NSC their assessments of the Covid-19 situation in China, including debating the extent to which the virus may continue to spread throughout the country. Rising Covid infection numbers in China suggest the virus has outpaced the current lockdown strategy and that Beijing may need to implement even harsher restrictions in the coming days, according to a person with direct knowledge of those conversations.
An NSC spokesperson did not immediately respond to a request for comment on the health-related discussions.
The initial messaging on the protests, on which the NSC took the lead, was somewhat complicated by the Thanksgiving holidays, the U.S. official familiar with the issue said. "It's not for the United States to comment on the protests. It's for the protesters," added the official.
In apparent response to the protests, Chinese officials have announced some slight changes to their zero-Covid strategy. Beijing officials, for instance, said they won't set up gates to block access to housing developments where infections were found. But, according to media reports detailing the changes, there was no sign the Communist leadership was backing off the overall strategy, which aims to isolate every infected person in order to contain community outbreaks that could otherwise spread and overwhelm the Chinese medical system.
Xi has accrued extraordinary power in China, stifling dissent along the way. His leadership was affirmed last month during a Communist Party gathering held every five years. That any Chinese protesters called for his departure was astonishing. During that party gathering, Xi emphasized his continued support for a zero-Covid policy.
Amid the protests, the U.S. Embassy in Beijing issued a Covid-focused statement assuring American citizens in China that their safety was its top priority. It encouraged them to "keep a 14-day supply of medications, bottled water, and food for yourself and any members of your household."
In recent weeks, U.S. and European officials have discussed whether and how to share vaccines with Beijing. This month, German Chancellor Olaf Scholz announced an agreement to let German expatriates in China access the mRNA BioNTech shots. In return, Scholz said he would support the regulatory approval of Chinese vaccines in the European Union. China has not approved any mRNA vaccines for use in the country and has instead relied on its own shot, which has not been effective at controlling infection rates.
As news of the protests spread online, evading Chinese censors, some U.S. lawmakers made bolder assertions. Republicans appeared most vocal, though there's widespread bipartisan antipathy toward Beijing in Congress.
"The people of China are pushing back against the authoritarian regime of Xi, and the #CCP. Americans everywhere are standing with you in solidarity… freedom for China!" Rep. Adam Kinzinger (R-Ill.) tweeted.
"The CCP is an evil regime," tweeted Sen. Marsha Blackburn (R-Tenn.) "The ongoing protests in Communist China show that the Chinese people are pleading for change."
The protests have taken place in major urban centers including Shanghai, Beijing, Wuhan, Chengdu and Xi'an.
Chinese security forces have deployed at protest sites in huge numbers but have so far responded to the protests with relative restraint. Police have called on protesters to disperse and in Shanghai on Sunday began detaining protesters who remained at key intersections of the city. Police have also erected high barriers on select streets in Shanghai to obstruct protesters from returning.
The Chinese security forces were clearly averse to foreign media coverage of the demonstrations. Shanghai police beat, handcuffed and briefly detained BBC journalist Ed Lawrence on Sunday as he filmed protesters. Police later said that they did so "for his own good in case he caught Covid from the crowd." The Foreign Correspondents' Club of China said in a statement on Monday that it was "extremely disturbed" by police targeting of foreign media at the protests.
A representative for the United Nations' Office of the High Commissioner for Human Rights urged Beijing to respect the right of peaceful protest. "No one should be arbitrarily detained for peacefully expressing their opinions," OHCHR spokesperson Jeremy Laurence told reporters on Monday.
The Chinese government is refraining from directly commenting on the protests. Chinese Foreign Ministry spokesperson Zhao Lijian on Monday denied knowledge of protesters demanding that Xi step down.
Zhao blamed "forces with ulterior motives" for linking the deadly Xinjiang fire with public anger about zero-Covid protocols. The Chinese Foreign Ministry excised those questions and responses from its daily news briefing transcript.
Erin Banco and Kelly Hooper contributed to this report.