Poker
Winter Olympics 2022: Mikaela Shiffrin out of second race in a row and more live updates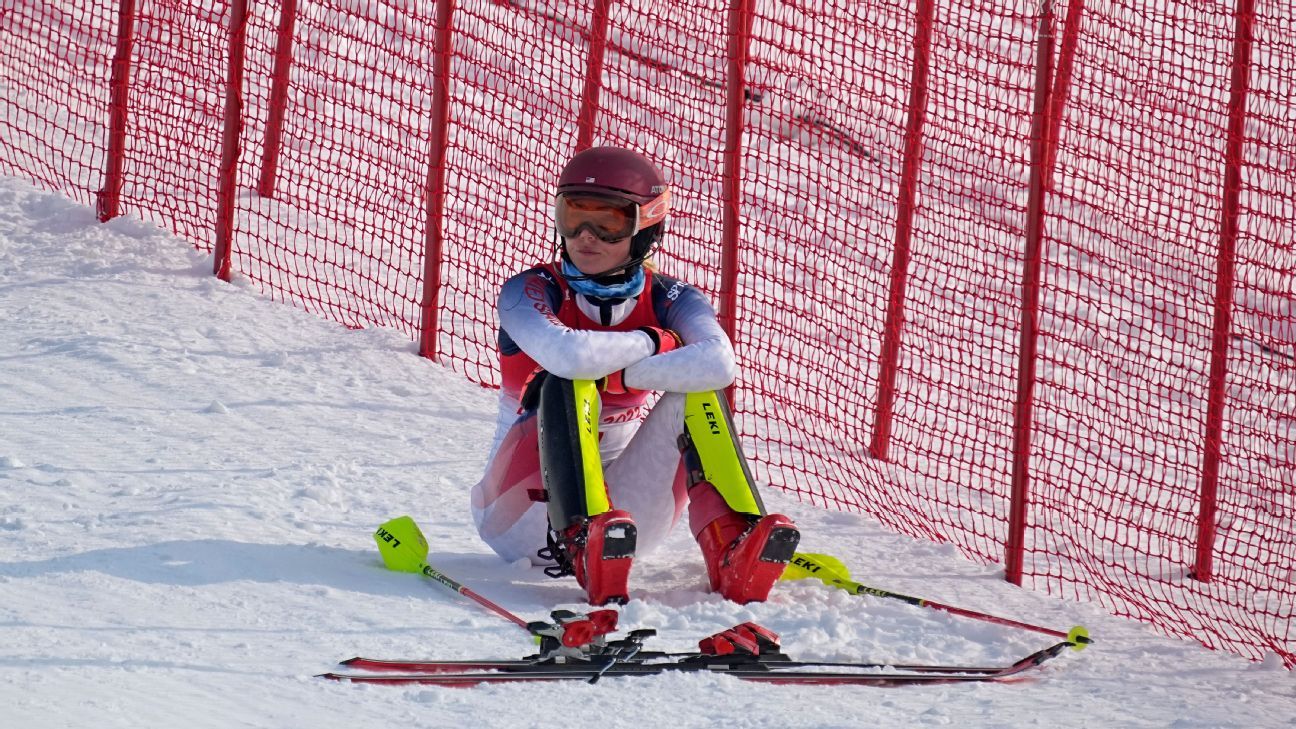 In a shocking moment on the slopes on Wednesday in Beijing, Alpine skier Mikaela Shiffrin got a DNF in the second race in a row. The American superstar skidded out of control about five seconds into the opening run of the slalom and is out of the event.
In snowboarding, legends Shaun White, Chloe Kim and Lindsey Jacobellis are all competing. Kim won the 2018 Olympic halfpipe title at age 17, while White and Jacobellis are each competing in their fifth Olympics (more on that below.) Kim and White will compete in halfpipe qualifying, while Jacobellis will aim to win a medal in snowboardcross.
Live updates on the action in Beijing here:
---
Shiffrin gets a DNF, again
Mikaela Shiffrin's Olympic woes continued on Wednesday as she recorded her second consecutive "Did Not Finish." Just two days after skiing out in the opening run of the grand slalom, the 26-year-old American had another costly mistake and lasted just five seconds on the course in the first run of the slalom competition.
A clearly stunned Shiffrin sat on the side of the course with her head in her hands for several minutes following the disappointing result.
Gutted for @MikaelaShiffrin but this does not take away from her storied career and what she can and will accomplish going forward. Keep your head high ❤️ pic.twitter.com/fSgqSii0JA

— lindsey vonn (@lindseyvonn) February 9, 2022
Shiffrin is hoping to make history in Beijing by winning at least one Olympic gold medal, which would give her the most ever by an American Alpine skier. Another medal of any kind would tie her for the most decorated Olympic female skier from the United States. She still has three more chances to do just that, starting with Friday's super-G competition. — D'Arcy Maine
A heartbreaking DNF for @MikaelaShiffrin. She is ok, but disappointed. 🙏 #olympics #AlpineSkiing

— U.S. Ski & Snowboard Team (@usskiteam) February 9, 2022
---
Kim leads the field in halfpipe; White still to compete
In the least surprising moment of the Games thus far, American snowboarder Chloe Kim qualified first into Thursday's halfpipe final, where she will compete to become the first woman to win two Olympic gold medals in the event. But don't ask the 21-year-old about defending her gold medal from Pyeongchang. It's a gold medal, she told ESPN in December, not a fortress.
"I don't really get the whole 'defending' thing," Kim said. "I'm just doing another contest and hopefully the conditions are great and I'm able to land the run I want to land."
That strategy has worked well for Kim, who has not lost a halfpipe contest she's entered since Pyeongchang and in Wednesday morning's qualifying, she easily topped the rest of the field with her first-run score of 87.75. "I was really nervous, cause we're at the Olympics," Kim said in a TV interview after her second run. "But the goal of qualifying is just to make it through to finals, so I'm stoked. I don't know how many more Games I'm going to do, so I'm embracing the moment as much as possible."
In perhaps the biggest surprise of the contest, Kim's teammate, Maddie Mastro, one of the only riders who could have challenged her for gold, struggled on both of her runs and finished just outside the top 12. Kim will be the only American rider in the final.
On the men's side, three-time gold medalist Shaun White is a different kind of champion. The 35-year-old has said in repeated interviews that he plans to defend his 2018 gold medal and won't give it up to his younger competitors without a fight. "I'm going to make them work for it," White has said. He begins his gold medal defense by attempting to qualify into the men's final later tonight. — Alyssa Roenigk
.@ChloeKim is here to remind us that if you ever get nervous, just eat a churro. pic.twitter.com/W79VYgqcqw

— NBC Olympics (@NBCOlympics) February 8, 2022
CHLOE KIM with a churro-worthy first run. 👏#WinterOlympics #WatchWithUS

📺 @nbc, @USA_Network and @peacockTV
💻 https://t.co/2G2aUmjS5U pic.twitter.com/5TgiAetrez

— NBC Olympics (@NBCOlympics) February 9, 2022
---
Bronze in Beijing
Jessie Diggins made history for Team USA as the first woman to earn an individual medal in cross-country skiing. This isn't Diggins' first time writing Olympic history. In 2018, along with teammate Kikkan Randall, she won America's first ever gold medal in the sport.
American icon. 🇺🇸 #WinterOlympics pic.twitter.com/s77Zu87yoy

— Team USA (@TeamUSA) February 9, 2022
---
Five-timers club
Shaun White announced right after the Beijing Olympics began that these will be his fifth and final Winter Games. He is undoubtedly one of America's greatest Olympians and a snowboarding icon. He has three Olympic gold medals and 13 Winter X Games wins.
Little photo dump from practice @Olympics @TeamUSA 📸 @jjthomas_ pic.twitter.com/AXloiYw3Rn

— Shaun White (@shaunwhite) February 8, 2022
"I'm a competitor and I want to win," White said of his final Olympics. "I can't show up without that feeling, so it's still there. I am going in eyes open, ready for any outcome. But yeah, I'm hoping to win."
White is not the only five-time Olympian competing tonight. Lindsey Jacobellis will compete in snowboardcross. She has won six world championships, 10 X Games gold medals and an Olympic silver medal.
Couple of 5 timers 🇺🇸 @shaunwhite & @LindsJacobellis #OpeningCeremony pic.twitter.com/QlhDDrYW29

— U.S. Ski & Snowboard Team (@usskiteam) February 4, 2022
---
Winter Olympics watch party
Former Olympic gymnasts Shawn Johnson and Nastia Liukin are tuned in to the Winter Games in style, with each wearing one of their own medals.
Wait for it. 😂 @ShawnJohnson @NastiaLiukin #WinterOlympics (via @AndrewDEast) pic.twitter.com/1FWU2tvINe

— NBC Olympics (@NBCOlympics) February 8, 2022
---
Event schedule (all times ET)
8:30 p.m.: Women's snowboard halfpipe qualifying
9:15 p.m.: Women's slalom
10 p.m.: Men's free ski big air final
10 p.m.: Women's snowboard cross qualifying
11:30 p.m.: Men's snowboard halfpipe qualifying
1:30 a.m.: Women's snowboard cross final
3:40 a.m.: Men's hockey prelim — Russian Olympic Committee vs. Switzerland
6 a.m.: Men's and women's short track speed skating
7:05 a.m.: Men's curling round robin — USA vs. Russian Olympic Committee