NBA
Gobert looking forward to first trip back to Utah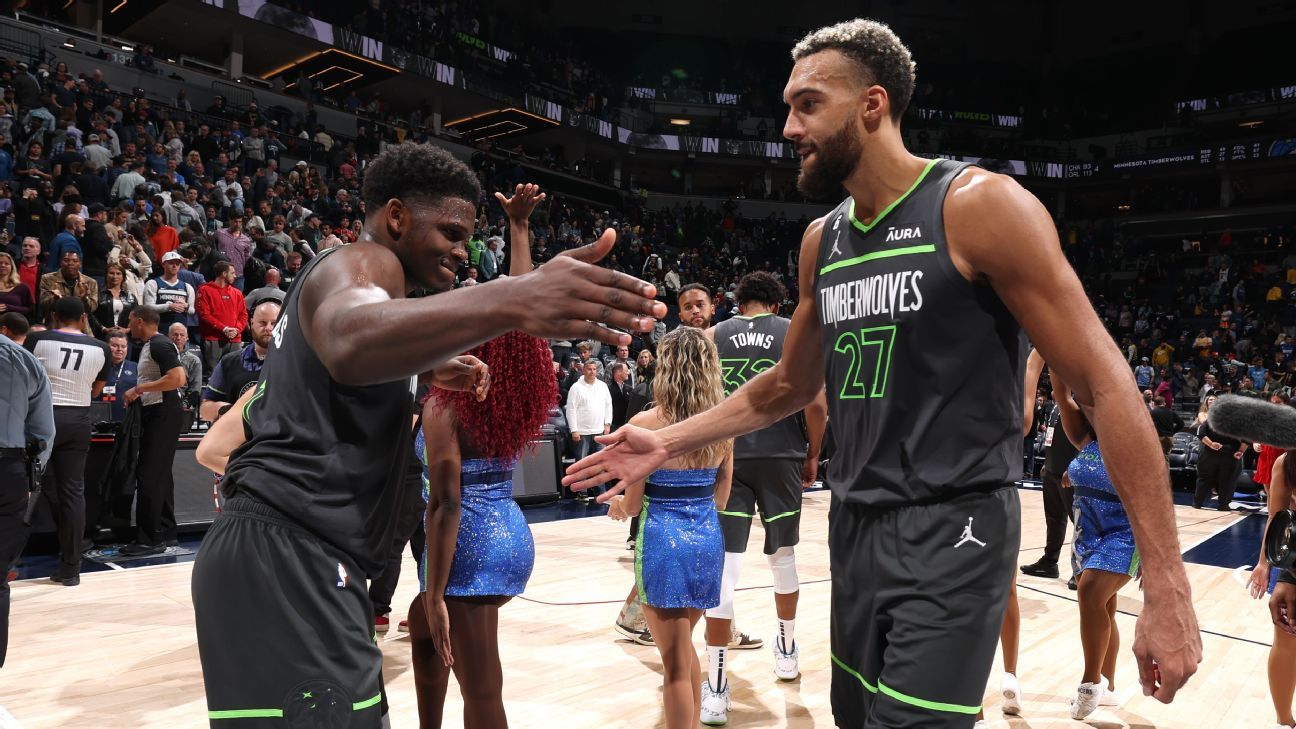 Rudy Gobert, who hoped to make Utah home for his entire NBA career, eagerly anticipates returning to Vivint Arena for the first time as a member of the visiting team when his Minnesota Timberwolves play the Jazz on Friday night.
"There's probably going to be a lot of emotions, but I just want to enjoy the moment and get a win," Gobert told ESPN as he drove to the airport for the Timberwolves' flight to Salt Lake City. "I spent nine years of my life there and created a lot of memories, have a lot of very powerful relationships with people that I love and gave me a lot of love over the years. It's going to be weird to walk into the arena and go to the visitors locker room, but it's going to be probably a lot of love and a lot of joy to come back."
Gobert developed from a skinny project who was the No. 27 overall pick in 2013 into a three-time Defensive Player of the Year and four-time All-NBA selection during his tenure with the Jazz. Utah made the playoffs the past six seasons — and had the NBA's best regular-season record in 2020-21 — but the Jazz never advanced to the conference finals.
New Utah CEO Danny Ainge opted to close that chapter in Jazz history, which he made clear by trading Gobert to Minnesota in a blockbuster deal that sent key contributors Malik Beasley, Jarred Vanderbilt and rookie Walker Kessler as well as four future first-round picks to Utah. Gobert has no hard feelings about the way his tenure with the Jazz ended.
"Spending nine years there is obviously something that I'll never forget, but at the same time, you've always got to be aware that it's a business," said Gobert, whose Rudy's Kids Foundation remains active in Utah, as well as in his native France and now Minnesota. "That's the way I see it. My dream was always to bring a championship to Utah. Some people didn't believe that could happen, and it's fair. It's totally fair. It's part of their job to do what they think is best for the team.
"Now, I'm in another place, but it doesn't change the human side of it. When I say that, I think it's bigger than just basketball. I gave my soul to this team, this city, this organization, my blood, sweat and tears, [and] there are some things that go beyond the business of basketball. That's why I [thought] we'd be here forever. Now, I'm in a new place with the opportunity to accomplish great things, and I'm always going to be grateful for those nine years in Utah."
The Jazz, who traded All-Star guard Donovan Mitchell to the Cleveland Cavaliers and starting forward Bojan Bogdanovic to the Detroit Pistons later this past summer, have been one of the NBA's most pleasant surprises. It was anticipated that Utah would be a lottery team in the first year of a rebuild, but the Jazz are sixth in the Western Conference standings with a 15-12 record.
"I've been very happy to see them having success," Gobert said. "Most people kind of counted them out after trading me and Donovan, and Bojan, too, but there's still a lot of talent on this team. You can tell that they're having a lot of fun, and also when you don't have a lot of expectations, you kind of play free. I think that's what's been happening for them. They play together, they play free, they play really hard. When you play that way with the level of talent they have, good things happen."
Minnesota, meanwhile, is 11th in the West with a 12-12 record. The Timberwolves struggled to adapt to playing Gobert aside Karl-Anthony Towns in a supersized frontcourt before Towns suffered a calf strain that is expected to sideline him four to six weeks. The Wolves have won two of three games since Towns' injury, including Wednesday's victory over the Indiana Pacers, when Gobert had arguably his best performance of the season with 16 points, 21 rebounds and two blocks, including a victory-sealing swat with 11 seconds remaining.
"I've been loving the process so far," said Gobert, who is averaging 13.3 points, 11.9 rebounds and 1.3 blocks, all decreases from the past several years. "Obviously there's some adversity, but this adversity is nothing I didn't expect coming into a new situation with a younger team — all the things that you have to go through when there is change, you change scenery and are in a new place after nine years. I've been embracing it, and I'm very excited about our team. I'm very excited about our growth. I know this growth is going to translate to a lot of wins this season."
Source link