Motorsports
The 'Crazy Boy' wins a crazy Moto3™ race at Assen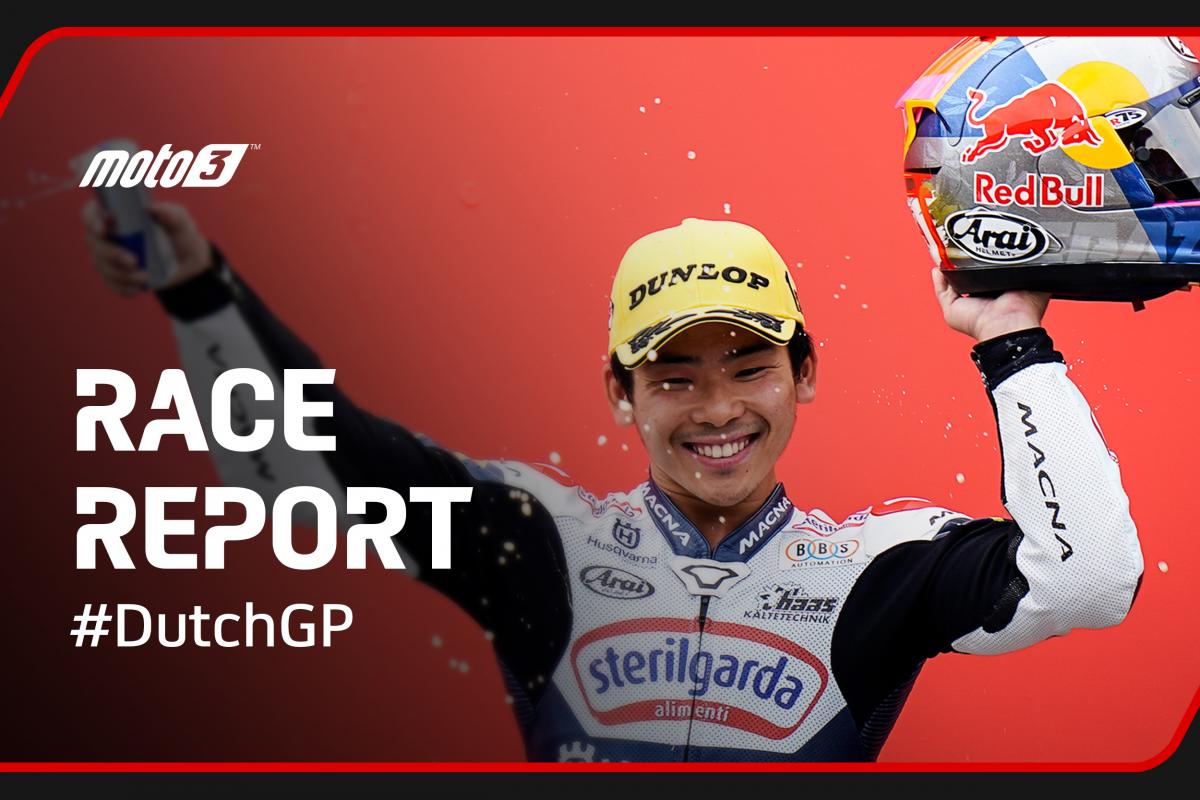 Sasaki breaks through for his first Grand Prix victory amid last-lap drama
Sterilgarda Husqvarna Max's Ayumu Sasaki has become a Moto3™ race winner in a frantic finish at the Motul TT Assen. The 'Crazy Boy' converted pole position into victory on team owner Max Biaggi's 51st birthday, although it was a triumph which he had to work extremely hard for. The GASGAS Aspar Team's Izan Guevara led for the bulk of the 22-lap race around the TT Circuit Assen and managed to finish second despite being shuffled as far back as fifth on the final lap, while his team-mate Sergio Garcia held onto the World Championship lead by beating Tatsuki Suzuki (Leopard Racing) to the podium by just 0.007 seconds.
David Muñoz (BOE Motorsports) took Jaume Masia (Red Bull KTM Ajo) out as they battled for the podium in the last half a lap, with John McPhee (Sterilgarda Husqvarna Max) having his own crash just behind them, while Dennis Foggia (Leopard Racing) had highsided just laps earlier after fighting back from a Long Lap Penalty to be mixing it with the leading group again.
Guevara takes an early lead – again
When the lights went out, it was Suzuki who swept into the lead at the first corner, with Muñoz jumping well from Row 2 to P2. Sasaki, who is still far from full fitness after an ugly practice crash at May's Italian Grand Prix, got back in front on the run down the back straight before Suzuki reclaimed the lead into the Ramshoek. The Japanese riders were first and second at the end of the standing lap, with Guevara running third, where he had qualified.
Sasaki passed Suzuki again at the start of Lap 2, with the Leopard Honda rider shuffled back several positions as Guevara took up second position. The Spaniard then challenged Sasaki into the Ramshoek and completed the pass through the Geert Timmer Chicane. That would be the start of a sustained period in the lead for Guevara, who had run away with the last two races, but there was all of the usual Moto3™ action going on just behind him.
Sasaki keeps in touch despite plenty of challengers
Suzuki was back up to second when they ran through De Bult on Lap 3, but had dropped back to fifth again when Sasaki passed him on the run to the Ramshoek, with Muñoz and Jaume Masia (Red Bull KTM Ajo) following them through. As Guevara continued to circulate just ahead of a ferocious battle for the minor placings, Suzuki scythed his way back to third position over the next few laps, and was second again when he got under Sasaki at Mandeveen on Lap 8. With just over a third of the race done, it was a lead group of Guevara, Suzuki, Sasaki, Muñoz, Masia, and Dennis Foggia (Leopard Racing), with Garcia a little further back in seventh position.
Foggia dropped to 13th on Lap 10 when he took a Long Lap Penalty for exceeding track limits at the Timmer Chicane, as the Japanese riders continued to argue over second place. Masia then moved into the runner-up position when he got by Sasaki at the Ramshoek on Lap 11, although 'Crazy Boy' wrested it back from him when they negotiated the tight Strubben corner on Lap 12. As their fight continued, McPhee and Xavier Artigas (CFMoto Racing PruestelGP) managed to catch the leading group, and Muñoz emerged in second spot from a swarm of riders.
Sasaki briefly fell back to fourth, behind team-mate McPhee, but reclaimed second when he once again got better turn into De Strubben and passed Muñoz on Lap 14. More challenges came from McPhee and then Suzuki, which Sasaki saw off, as the slicing and dicing continued. Foggia had firmly got back into the battle pack but was out of the race when he highsided on the kerbs exiting Haarbocht on Lap 18, as Muñoz put a move on him for fourth.
On Lap 19, Masia launched a challenge for second but Sasaki was quickly back in front, and on Lap 20, the lead finally changed when the Japanese rider pulled off his by then customary move at De Strubben, this time on Guevara. Sasaki repelled Guevara's attempted comeback as they ran down the back straight, but could not keep the Aspar rider at bay when they arrived at the Ramshoek. However, Sasaki returned the favour exactly a lap later, and his cause was made easier when Suzuki also passed Guevara, monents later at the Timmer Chicane.
With a lap to go it was therefore Sasaki from Suzuki and Guevara, who then lost positions to Masia and Muñoz by the time he exited De Strubben again. Sasaki lost the lead to Suzuki at Stekkenwal but got it back straight away at De Bult, as mayhem unfolded behind him. Muñoz went down and took Masia out of third, and McPhee crashed just behind, meaning Guevara was back up to third.
In the final hectic run to the finish line, Sasaki triumphed, Guevara got Suzuki for second at the Timmer Chicane, and Garcia, a real beneficiary from that carnage, nabbed a podium which gave him enough points to hold onto the World Championship lead by a margin over his team-mate of just three. Behind Suzuki was Artigas in fifth, ahead of a distant Daniel Holgado (Red Bull KTM Ajo), Stefano Nepa (Angeluss MTA Team), Ryusei Yamanaka (MT Helmets – MSI), Deniz Öncü (Red Bull KTM Tech 3), and Kaito Toba (CIP Green Power).
The rest of the points finishers were Riccardo Rossi (Sic58 Squadra Corse), Ivan Ortola (Angeluss MTA Team), Lorenzo Fellon (Sic58 Squadra Corse), Carlos Tatay (CFMoto Racing PruestelGP), and Andrea Migno (Rivacold Snipers Team). In addition to those mentioned above, the retirements included Adrian Fernandez (Red Bull KTM Tech3) and Joel Kelo (CIP Green Power), who had both run in the top 10 before the former took out the latter on the final lap.
After a frantic Assen weekend, it's time for the lightweight class field to enjoy a hard-earned summer break. Catch Round 12, the Monster Energy British Grand Prix at the Silverstone Circuit, on August 5-7.
1. Ayumu Sasaki (Sterilgarda Husqvarna Max) – 1:36.736
2. Izan Guevara (GASGAS Aspar Team) + 0.314
3. Sergio Garcia (GASGAS Aspar Team) + 0.392
4. Tatsuki Suzuki (Leopard Racing) + 0.399
5. Xavier Artigas (CFMoto Racing PruestelGP) + 0.661
6. Daniel Holgado (Red Bull KTM Ajo) + 11.540
7. Stefano Nepa (Angeluss MTA Team) + 11.606
8. Ryusei Yamanaka (MT Helmets – MSI) + 12.225
9. Deniz Öncü (Red Bull KTM Tech 3) + 12.309
10. Kaito Toba (CIP Green Power) + 12.368
Source link