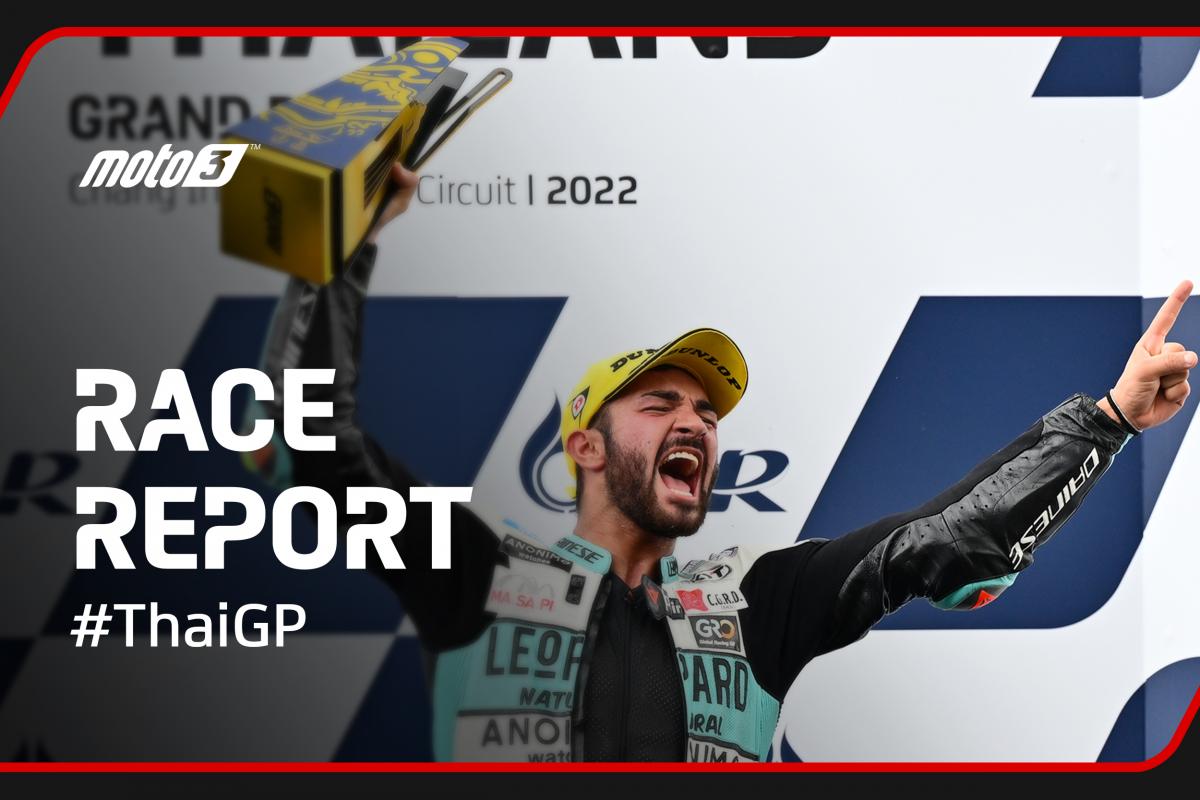 'The Rocket' puts himself back into Moto3™ title contention but Guevara has his first match point now
Dennis Foggia has given himself a glimmer of hope in the Moto3™ title race with an impressive ride to victory at the OR Thailand Grand Prix. The Leopard Racing rider qualified on pole position and led for all but one of the 22 laps around the Chang International Circuit, taking the chequered flag ahead of Ayumu Sasaki (Sterilgarda Husqvarna Max) and Riccardo Rossi (SIC58 Squadra Corse). Foggia is now up to second in the World Championship, 49 points behind Izan Guevara (Gaviota GASGAS Aspar Team), who worked hard for the 11 points which he earned by finishing fifth. His teammate Sergio Garcia, however, scored a dreaded 'zero' after he was collected on the opening lap and is now 56 points behind in the standings.
Early misfortune for Garcia
Foggia converted pole into the initial lead, while Sasaki had clawed his way back to second position by the end of the opening lap after being as low as fifth. Further back, Garcia's rotten weekend got even worse. After qualifying only 20th, he was caught up in high drama at Turn 12, going down when he was hit by a highsiding Adrian Fernandez (Red Bull KTM Tech3). Fernandez himself also struck Taiyo Furusato (Honda Team Asia), who managed to stay upright, in an incident which will be reviewed post-race.
Up the front, Foggia continued to lead as a battle pack emerged just behind. Sasaki was getting plenty of attention from the likes of Stefano Nepa (Angeluss MTA Team), David Muñoz (BOE Motorsports), and Rossi, but every time he lost a position or two, he quickly reclaimed second place. Tatsuki Suzuki (Leopard Racing) was also part of the lead bunch until he pulled off with an apparent technical problem on while running seventh on Lap 8.
An almost perfect race for Foggia
That left a group of six headed by Foggia, from Sasaki, Muñoz, Nepa, Diogo Moreira (MT Helmets – MSI), and Jaume Masia (Red Bull KTM Ajo), while Guevara had worked his way up from 11th on the grid to be at the head of the second bunch of riders in seventh position, although he had a fight on his hands to stay there. Foggia ceded the lead for the first time when he ran well wide through Turn 12 at the end of Lap 13, but got it back almost immediately when he overtook Sasaki on the long, open run to Turn 3.
Then, on Lap 14, it was Moreira's turn to run wide at Turn 12 and he lost touch with the top four of Foggia, Sasaki, Rossi, and Muñoz. Rossi made a move on Sasaki on Lap 15 at Turn 3 and actually held second place for several laps, before the 'Crazy Boy' went back down his inside at Turn 12 at the end of Lap 19 in what had become a three-rider breakaway. Foggia, however, looked comfortable, and Sasaki nearly lost second spot again when he ran wide at Turn 3 on the penultimate lap. Then, at the very last corner, Rossi fired it down the inside of the Japanese rider but was in too hot and he too took the long route. At the chequered flag, it was Foggia the victor by a margin of 1.524 seconds over Sasaki, with Rossi 1.280 seconds further back.
Guevara lives dangerously
Meanwhile, Muñoz, Moreira, and Masia had all dropped back into the second group, in which the key man was Guevara. In fact, the Championship leader very nearly saw his race come to an end on Lap 16 when Masia folded the front just ahead of him at Turn 3, but he KTM Ajo rider caught it and saved a crash. Guevara dropped from fifth to seventh when he made an error and ran well wide on Lap 20 at Turn 3, but had climbed all the way to fourth, seven seconds back from the podium places, at the start of the final lap.
Three corners later, it was almost disaster again for Guevara! He ran wide once more at Turn 3 and opened the door for Nepa to pinch fourth, then made contact with Muñoz on exit and saw Andrea Migno (Rivacold Snipers Team) also go past as a result. Muñoz was therefore fifth as he approached the final corner of the race but he became the latest rider to outbrake himself. After all of that, Nepa claimed fourth position, Guevara a valuable fifth, and Migno was sixth until he was handed a position drop penalty which promoted Moreira ahead of him. Masia finished eighth, ahead of Muñoz and Ryusei Yamanaka (MT Helmets – MSI) in 10th.
The rest of the points finishers were Holgado, Joel Kelso (CIP Green Power), Carlos Tatay (CFMoto Racing PruestelGP), Xavier Artigas (CFMoto Racing PruestelGP), and Scott Ogden (VisionTrack Racing Team). Garcia eventually retired after trying to continue, while John McPhee (Sterilgarda Husqvarna Max) and Kaito Toba (CIP Green Power) crashed out in separate incidents, joining Suzuki and Fernandez as DNFs.
Now, Guevara has his first match point. Find out if he can clinch the Moto3™ World Championship at Phillip island when the Animoca Brands Australian Motorcycle Grand Prix takes place on October 14-16!
1. Dennis Foggia (Leopard Racing)
2. Ayumu Sasaki (Sterilgarda Husqvarna Max) + 1.524
3. Riccardo Rossi (SIC58 Squadra Corse) + 2.804
4. Stefano Nepa (Angeluss MTA Team) + 9.414
5. Izan Guevara (Gaviota GASGAS Aspar Team) + 9.527
6. Diogo Moreira (MT Helmets – MSI) + 9.971
7. Andrea Migno (Rivacold Snipers Team) + 9.610
8. Jaume Masia (Red Bull KTM Ajo) + 10.033
9. David Muñoz (BOE Motorsports) + 10.046
10. Ryusei Yamanaka (MT Helmets – MSI) + 10.088
Source link