Motorsports
Arbolino wins after the heavens open in Thailand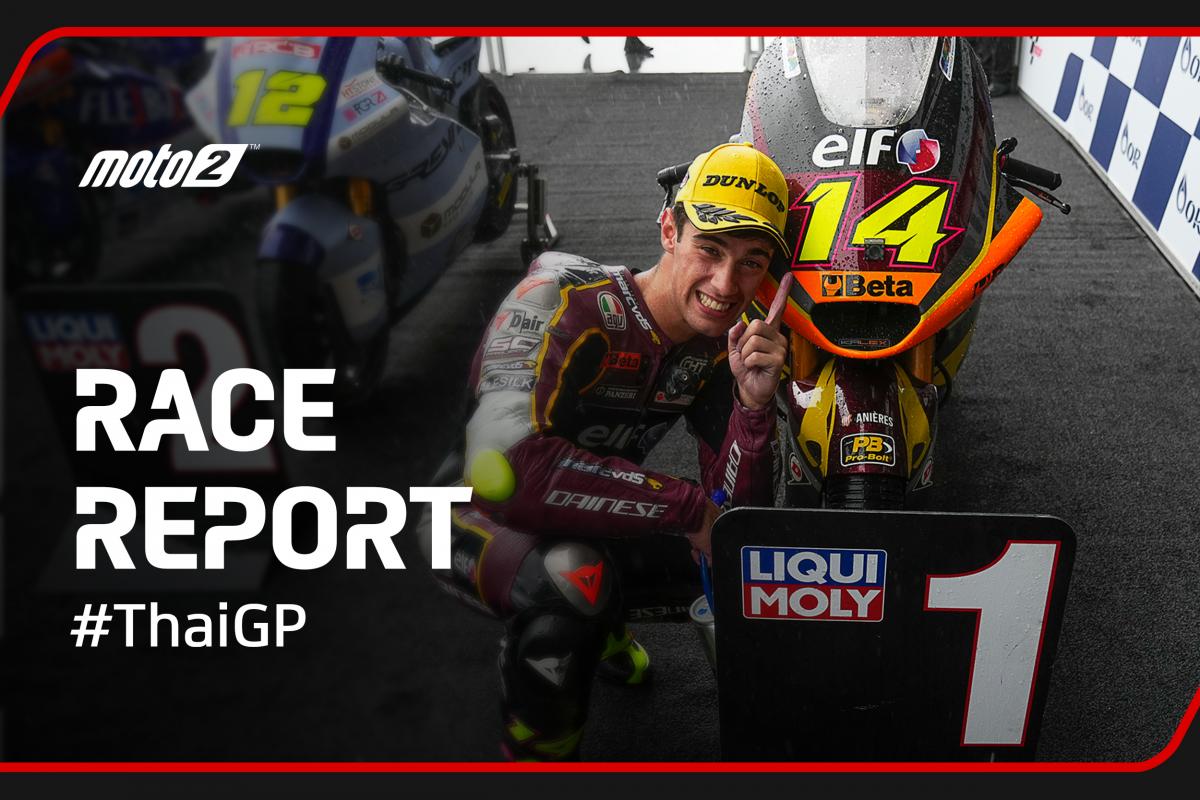 Half points awarded after the rain pours and pours and pours down
Torrential rain caused high drama at the OR Thailand Grand Prix and it was Tony Arbolino who was eventually classified the winner of a shortened Moto2™ race. The Elf Marc VDS Racing Team rider had just passed Filip Salac (Gresini Racing Moto2™) for the lead at the end of Lap 8 around the Chang International Circuit when the contest was red-flagged. After two attempts to re-start, Race Direction ultimately decided to award half points. Nevertheless, Arbolino, Salac, and Aron Canet (Flexbox HP40) can count themselves as Thai GP podium finishers, while Ai Ogura (Idemitsu Honda Team Asia) gained half a point on World Championship leader Augusto Fernandez (Red Bull KTM Ajo) when they were locked into sixth and seventh in the final results.
Bucketing down in Buriram
A downpour just minutes before the scheduled start time saw the race declared wet, and crews swapped slick tyres for wets on the grid as the scheduled distance was cut from 22 to 16 laps. Conditions were ultra-challenging when riders did eventually get lights out and pole-sitter Chantra emerged with the lead as they exited Turn 1, ahead of Alonso Lopez (Beta Tools Speed Up) and Ai Ogura (Idemitsu Honda Team Asia).
Cameron Beaubier (American Racing) overtook Ogura for third at Turn 3 and was second when he went past Lopez through Turn 4 but, no sooner had he done so, he touched the ever so slippery paint on exit and crashed. Aron Canet (Flexbox HP40) was charging through the field, coming all the way from 18th on the grid to pass Jake Dixon (Inde GASGAS Aspar Team) for fourth at Turn 8. When Filip Salac (Gresini Racing Moto2™) went wide at Turn 12 at the end of the opening lap, Canet inherited third position and Dixon fourth.
Chantra had sent his home crowd crazy with his pole on Saturday afternoon but there was heartbreak all-round on Lap 2 when he lost the rear through Turn 4 and crashed out of the lead. Lopez was the new front-runner, from Canet, Dixon, Salac, Ogura, Joe Roberts (Italtrans Racing Team), Arbolino, and Augusto Fernandez (Red Bull KTM Ajo). On the following lap, Canet tried a move on Lopez at Turn 8 and while he could not get it done there, the Boscoscuro pilot handed over the lead when he ran wide at Turn 5 on Lap 4.
Salac passed Dixon into Turn 12 at the end of that lap and made it a two-for-one deal when he accelerated ahead of Lopez and into second place on exit. Then on Lap 5, the Czech rider got a brilliant run off Turn 11 and cleared Canet by the time they arrived at Turn 12, at the other end of the chute, to move into the lead. However, there was another man to watch and that was Arbolino. 'Tiger Tony' had overtaken Ogura for fifth on Lap 3 and prised fourth off Lopez on Lap 5 after a couple of attempts, before eventually picking off Dixon for third on Lap 6.
Arbolino takes the lead in the nick of time
Next time through, Arbolino went under Canet and into second place at Turn 4, at which point he was more than a second in arrears of Salac. The Italian made light work of that margin and then did not need to work at all for the pass when Salac outbraked himself at Turn 12 on Lap 8. They had barely started the following lap when Race Direction decided the conditions were too dangerous to continue and put out the red flags, signalling what was supposed to be a pause in proceedings. Canet held third at the time, ahead of Dixon, Lopez, and Ogura. Fernandez was just one position further back, given the Championship leader had not long passed Roberts for seventh.
One new start time came and went when the conditions did not sufficiently improve, before riders were sent for a quick re-start after a delay of over half an hour. However, just as they circulated around the Buriram track on their way back to the grid, it became obvious that the rain was simply too heavy to continue, and the red flags were thrown again. Word soon came through that the race would not re-start and, with less than two thirds of the distance completed, half points were awarded.
Behind the aforementioned eight, Keminth Kubo (Yamaha VR46 Master Camp Team) was classified ninth, ahead of Celestino Vietti (Mooney VR46 Racing Team), Sean Dylan Kelly (American Racing), Barry Baltus (RW Racing GP), Taiga Hada (Pertamina Mandalika SAG Team), Albert Arenas (Inde GASGAS Aspar Team), and Marcel Schrötter (Liqui Moly Intact GP).
In the World Championship, Fernandez still leads, with his margin over Ogura cut to 1.5 points ahead of the final three rounds of the season. It means that every goes on the line when the Animoca Brands Australian Motorcycle Grand Prix takes place at Phillip Island on October 14-16!
1. Tony Arbolino (Elf Marc VDS Racing Team)
2. Filip Salac (Gresini Racing Moto2) + 0.251
3. Aron Canet (Flexbox HP40) + 3.112
4. Jake Dixon (Inde GASGAS Aspar Team) + 3.268
5. Alonso Lopez (Beta Tools Speed Up) + 4.137
6. Ai Ogura (Idemitsu Honda Team Asia) + 5.715
7. Augusto Fernandez (Red Bull KTM Ajo) + 9.862
8. Joe Roberts (Italtrans Racing Team) + 1 lap
9. Keminth Kubo (Yamaha VR46 Master Camp Team) + 1 lap
10. Celestino Vietti (Mooney VR46 Racing Team) + 1 lap
Source link