LifeStyle
Shakes to gelato: These S'porean millennials invested $100K to open a coconut dessert store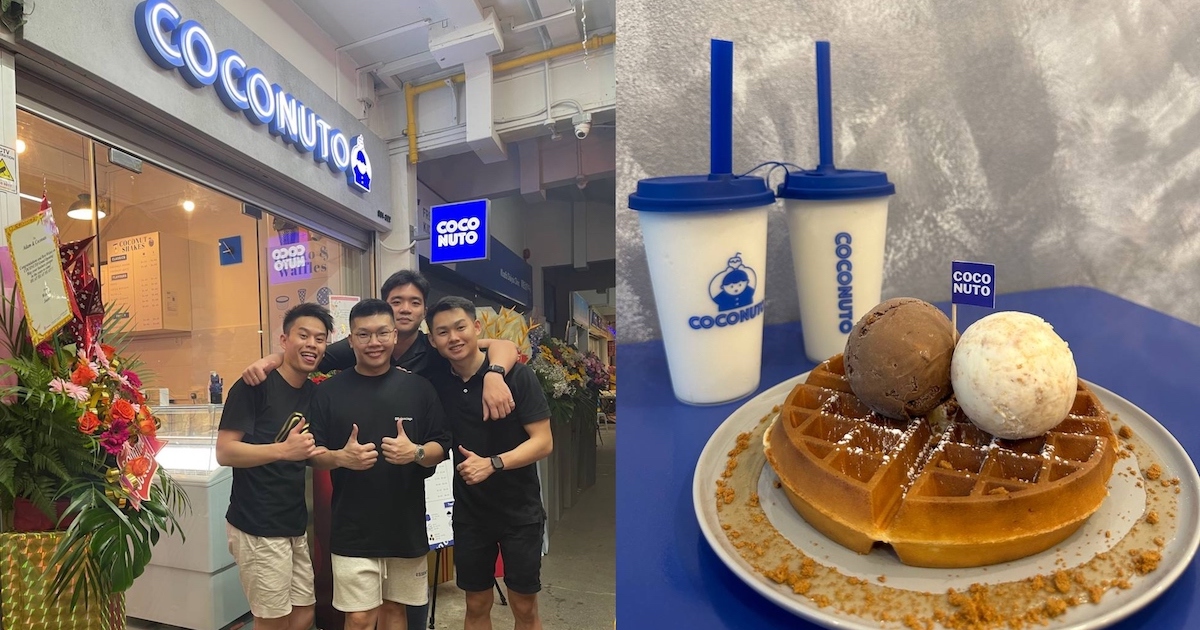 In a bustling city like Singapore, it's hard to stand out in the competitive F&B industry, but these four friends have managed to carve a niche for themselves with their coconut-based desserts.
Kenneth Lim, Nicholas Tan, Chan Hao Yuan, and Adam Tan are long-time friends from secondary school, who often played basketball together. After graduation, they each took on different career paths — financial services, IT, economics — but their love for coconut have brought them together again.
The four friends had gone on a trip to Bangkok's Chatuchak weekend market and tried out the signature coconut ice cream there, which was refreshing to have in the hot and humid climate. They wanted to expand on it and sell coconut-based desserts in Singapore, seeing that there's already an existing demand here.
Furthermore, as dessert lovers, they often hunted for new and exciting local supper spots, so they wanted their upcoming venture to be a midnight dessert spot. This was what prompted the founders to start up Coconuto.
They opened their first store in Yishun
The early days of setting up the company were filled with challenges, as the founders had to learn everything from scratch, since they had no prior knowledge or experience in the F&B industry.
"We started from the basics like the registering the company, securing a food shop license, and attending basic food hygiene training programmes," said Kenneth.
"We sat down to research [the market], such as analysing location and product lines for our menu. We also sought guidance from other friendly F&B business owners, who shared with us some tips and measures to set up the food business."
Before adding products to their menu, they would reach out to friends and families, as well as members of the public like local university students, to sample their products. Even till today, they continually gather feedback from their customers to further improve on their products and provide the best experience for their customers.
Despite the challenges, the founders overcame them and opened their first store in Yishun in March last year. Kenneth reasoned that they chose Yishun because they wanted to be in the heartland neighbourhood that's popular for dessert stores that open till late.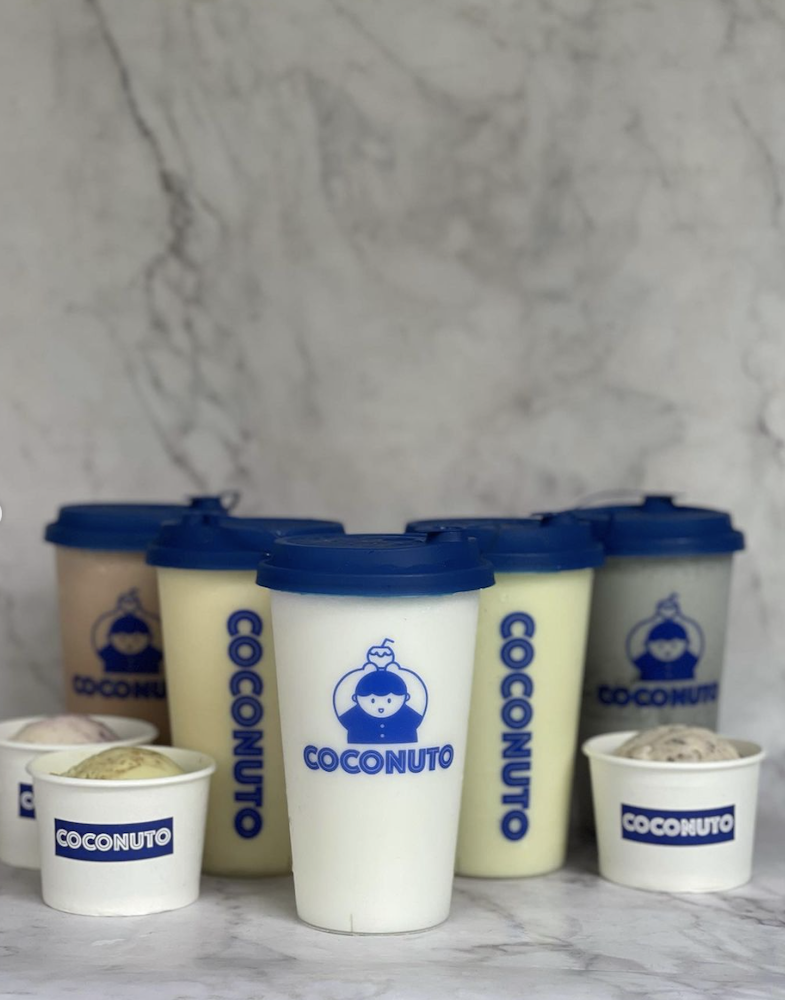 They sell refreshing coconut shakes, freshly made waffles, and indulgent coconut-based flavoured gelato ice cream, which is infused with traditional desserts.
Some of their unique gelato flavours include Mango Sticky Rice, Toasted Coconut, and Hey-bye (black glutinous rice). Their most popular products are the Lotus Biscoff coconut shake, and their waffles paired together with milk gelato with toasted coconut flakes.
Kenneth expressed his vision for Coconuto to be the go-to place for coconut-based desserts in the heartlands, and hopes that people will be attracted from all over Singapore to try their offerings.
Expansion is on their business map
During COVID-19, many businesses struggled to stay afloat, but the founders saw this moment of crisis into an opportunity. They took a leap of faith and started mapping out their business idea during the pandemic period.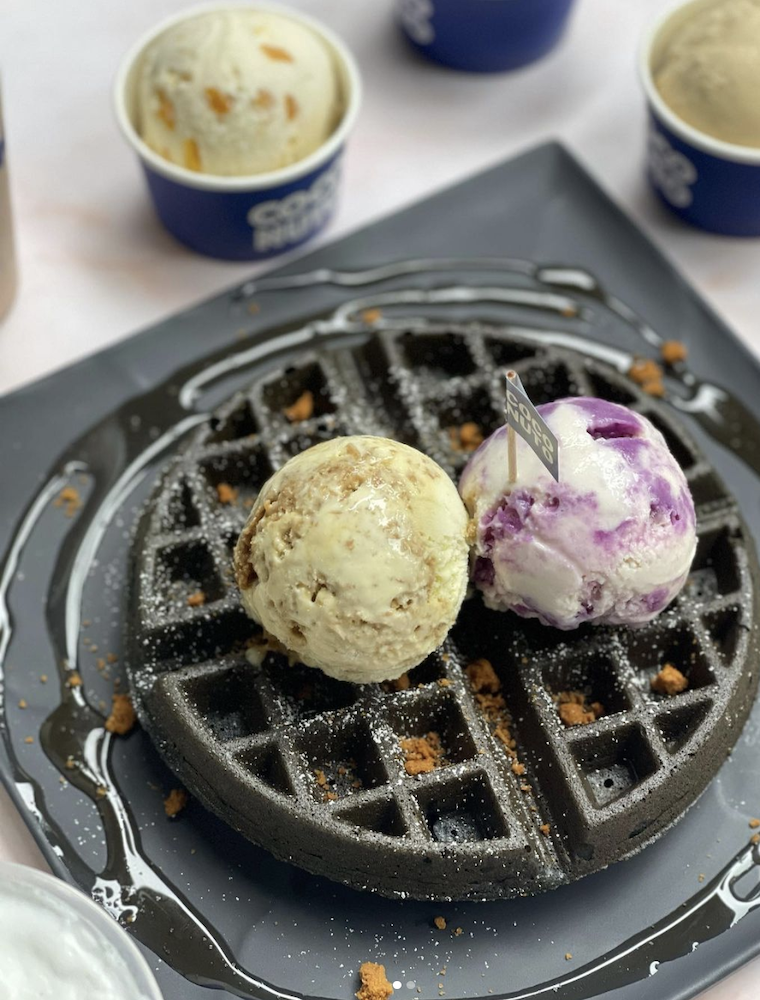 The young entrepreneurs — aged between 26 and 29 — pumped in an initial investment of S$100,000 into the business, and are optimistic that they would be able to break even within two years.
"We understand in F&B, and as a new startup, it would take a longer time [to gain] acceptance and grow," noted Kenneth.
On their grand opening day, Coconuto served a record number of customers, and they also managed to partner with and sponsor a few university camps with their coconut shakes.
While some may consider coconut shakes and desserts to be a mere food trend, Kenneth believes that they would be able to gain an edge as they continually create new products, which gives them "push and relevancy" in this market.
Looking to the future, Coconuto plans to expand their retail footprint to the four different regions of Singapore so that customers don't have to travel all the way to Yishun to enjoy their offerings.
Featured Image Credit: Coconuto