LifeStyle
From S'pore to NYC: This S'pore hawkerpreneur is putting his charcoal burgers on the world map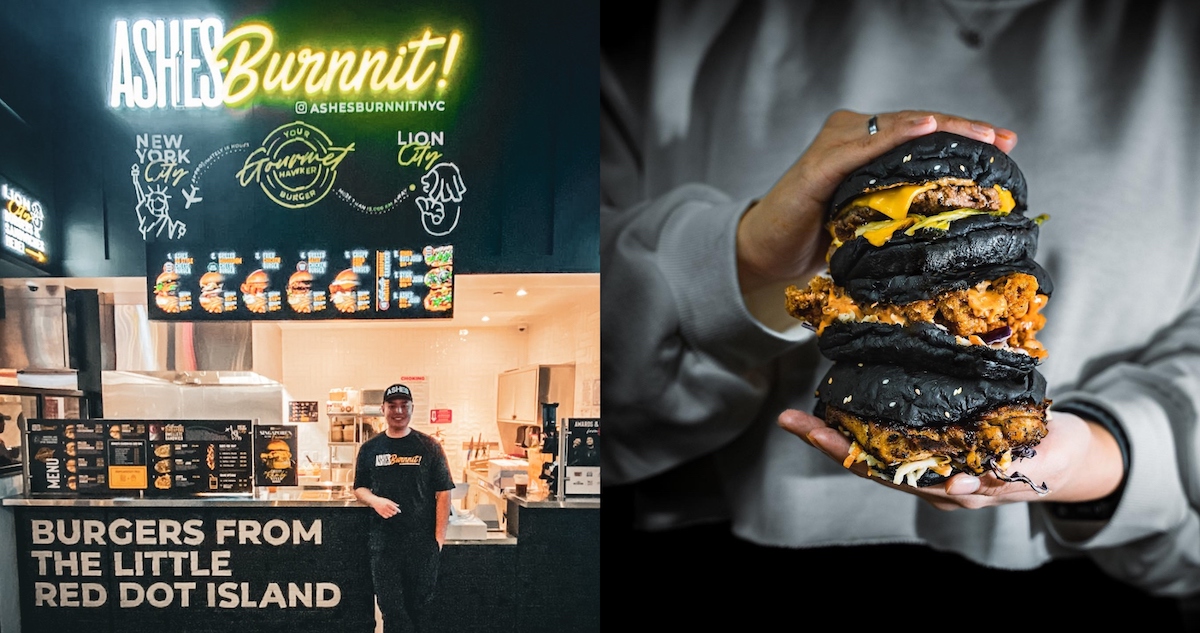 It's often said that when one door closes, another opens — this sentiment couldn't ring more true for Syafiq Lee.
When he left Burgs by Project Warung, a gourmet burger brand that he co-founded back in 2017, he didn't just pack up and leave the burger scene behind. Instead, he took a bold leap of faith and started a new venture AshesBurnnit, which officially launched in September 2019.
"When I decided to separate from [Burgs], I knew I had to do something different instead of the regular burgers. So I thought why not try out charcoal buns, since it wasn't that popular back then," the 31-year-old told Vulcan Post over a video interview.
The idea was simple: to infuse charcoal into the burger buns, giving them a distinctive black colour while still retaining the softness and texture of regular buns.
He is also not worried if Burgs views them as competition, because they adopt different business models — Burgs is moving into malls, while AshesBurnnit is focused on coffeeshops and hawker stalls.
Over the pandemic-stricken years, his burger business has steadily grown its footprint, and currently has five stalls in Singapore and one in New York City.
Starting from scratch amid COVID-19
Just a few months after he launched AshesBurnnit, it was the onset of COVID-19. The first six months of the pandemic were tough, especially for a new business like his.
Syafiq had just started the rebranding process and were just beginning to build a pool of customers when the pandemic hit Singapore. Restaurants and cafes were forced to close, and only hawkers were allowed to operate, which turned out to be a blessing in disguise for them.
During this period, the brand ramped up its social media marketing efforts and rolled out islandwide deliveries, allowing more people to try their food. This helped to boost revenue during the pandemic and gain popularity at the same time.
Syafiq and his team also worked with freelance delivery riders who had lost their jobs due to the pandemic. They charged S$10 to S$15 per delivery, and all the fees went directly to the riders. This was a win-win situation for both parties, as AshesBurnnit was able to provide delivery services to its customers while also supporting the community during a difficult time.
Beyond in-house deliveries, they also jumped onboard new, small-scale food delivery platforms, which emerged during COVID-19 to help smaller F&B players.
Although COVID restrictions have already eased, Syafiq said that they still continue to witness high delivery orders.
Back then, our stall would see 90 per cent walk-ins and 10 per cent deliveries. Post-COVID, the ratio is now 60-40 or 50-50 on average. This affects our [bottomline greatly] because we pay commission fees to the delivery platforms. The higher the commission fees, the lesser profits [we earn].

– Syafiq Lee, founder of AshesBurnnit
Another challenge that Syafiq faced was building a customer base from scratch.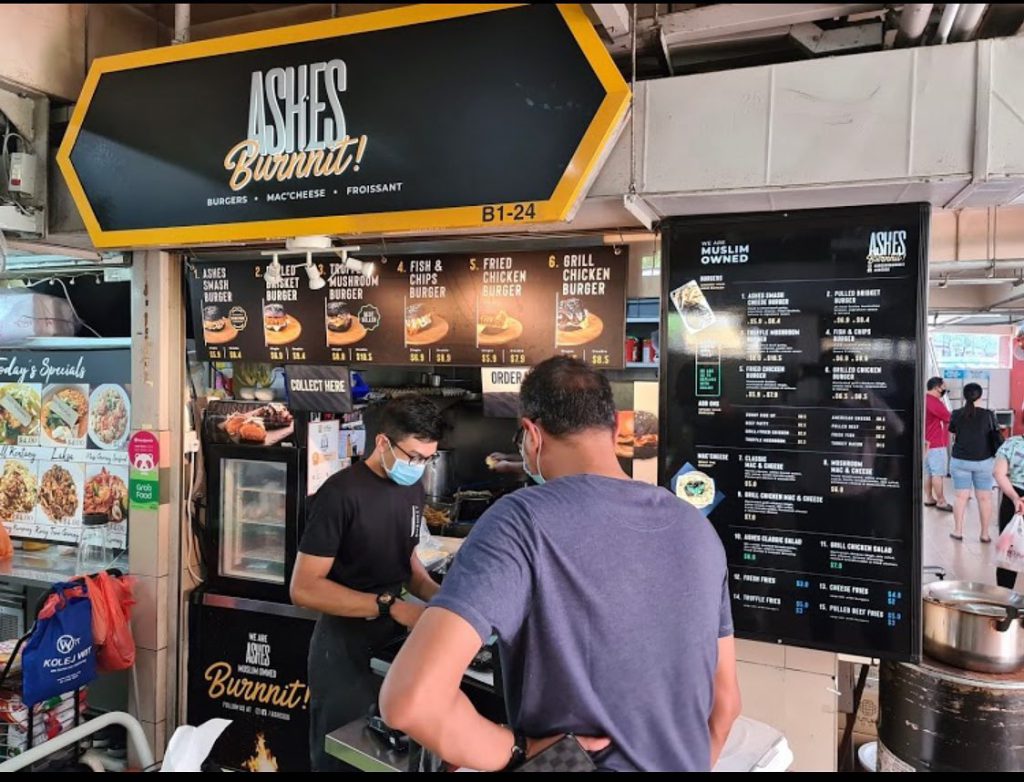 The first AshesBurnnit stall was actually located in the exact same location as Burgs' stall at Golden Mile Food Centre. Syafiq took over the stall because it was under his name and revamped everything — from changing the menu to stall settings.
It was a strategic move because the stall already had a lot of foot traffic, but they had to work hard to build up their own customer base because people were used to seeing Burgs there. Some people were also unsure if they should try AshesBurnnit out because they were unfamiliar with charcoal buns.
"We had to educate our customers on the benefits of charcoal buns," Syafiq said. "A lot of people were skeptical at first because they weren't familiar with the idea. But we explained to them that charcoal buns are actually much healthier than regular buns, and there's no difference in terms of taste."
Fast forward to today, Syafiq claims that AshesBurnnit is recognised everywhere by their signature charcoal buns.
The inflation challenge is real for F&B entrepeneurs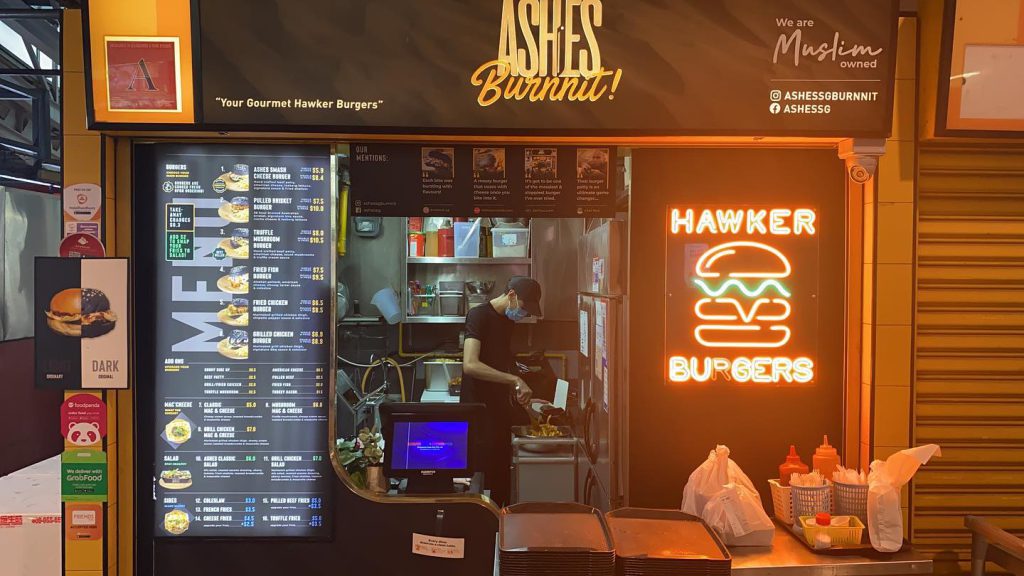 Since its first outlet in Golden Mile, Ashesburnnit has opened four more outlets in Singapore — at Alexandra Village Food Centre, Bedok South, Teck Whye Lane, and Woodlands North Plaza.
The company's fast expansion is attributed to its ability to identify its customers' needs through delivery orders, which helped it determine the areas where the majority of its customers are located.
Instead of opening outlets in prime locations, AshesBurnnit opted for heartland areas where its customers are concentrated. "Instead of them going to us, we actually go to them," he quipped.
While the brand typically opens one to two outlets each year, it has decided to hold back on its expansion plans due to the recent inflation.
The cost of goods has increased, and the company is struggling to remain affordable as they continue to aim for the masses.
We recently increased our prices by S$0.50 to S$1 in January 2023, although the cost of goods increased way back in October last year. Suppliers don't increase the cost by up to S$1, they actually increase prices by S$3 to S$4 on average, per carton.

Even after we increased our prices at the start of this year, the cost has gone up again. It's like a [catch-22 situation] — it's a never-ending game of increment and for us, being in hawker centres and coffee shops, there's a limit in terms of price point. Nobody is going to pay more than S$10.

– Syafiq Lee, founder of AshesBurnnit
Despite the challenges, Ashesburnnit remains profitable and still able to absorb some of the inflationary costs, although they are not earning as much as before due to increased expenditure and a more diffused customer base.
Spreading their wings to New York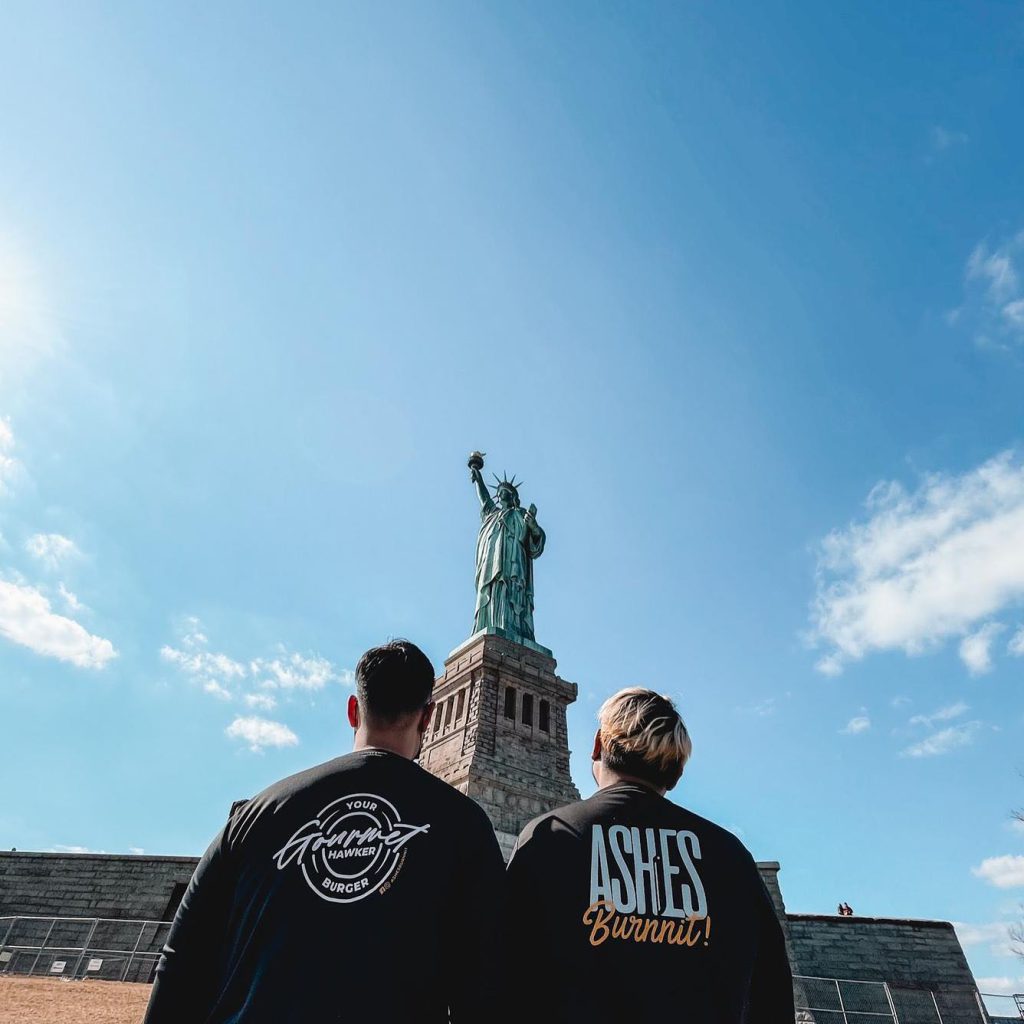 Beyond Singapore, AshesBurnnit recently opened its first overseas outlet in New York City, which is located just two streets away from tourist hotspot Time Square.
When asked about what triggered the expansion to New York, Syafiq shares that the idea was to serve Singapore-style burgers to the "capital of burgers".
He added that their satay chicken burger was an instant hit, and they also introduced their charcoal 'roti John', which did very well too. Additionally, he wanted to show New Yorkers that burgers are also a staple food in Singapore.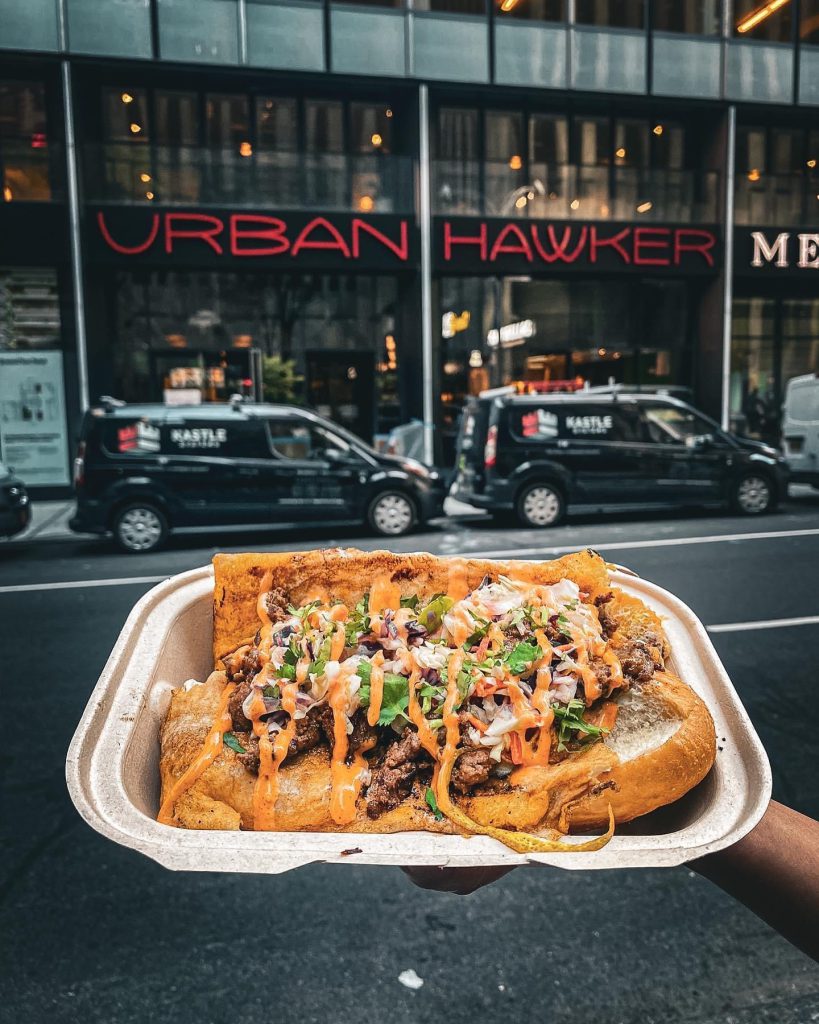 The opportunity to open a store in New York came through the Urban Hawker, a New York-based hawker centre that is the brainchild of KF Seetoh from Makansutra.
Seetoh had invited a couple of local hawkers to go abroad after doing a round of food tasting to make his selection, and has a vision to spotlight young 'hawkerpreneurs' and help them expand overseas.
Syafiq shared that it is a goal for all of them to show people that even hawkers can make a mark globally. Personally for him, he wants to encourage the younger generation to join the hawker trade, and hope to be an inspiration for people to follow.
However, Syafiq admitted that he had a lot of concerns before taking the leap to expand to New York. He shares that setting up a company there is a "new world" for him, and he had to learn a lot of things such as taxation, filing, connecting to halal suppliers, and acquiring new equipment.
He also had to pump in a significant amount of capital — and the currency has shifted from SGD to USD, resulting in increased costs due to the conversion rate.
It's 60 per cent more expensive [to set up shop there]. In Singapore, you need S$30,000 on average but in New York, you need at least US$70,000 to US$80,000.

Some people might question why we chose to open up someplace halfway around the world instead of [sticking to somewhere regional] in Asia. But as a young entrepreneur, I'm not afraid to take risks. If you never try, you never know! 

– Syafiq Lee, founder of AshesBurnnit
In the days leading up to the New York outlet opening, Syafiq shared that he had a lot of help from Seetoh, Urban Hawker and Enterprise Singapore, which had a branch there.
They passed him a list of relevant contacts, and he also travelled to New York to settle the business, spending half a year there across four different trips. It was challenging, but he believed that the opportunity was too good to let it slip away.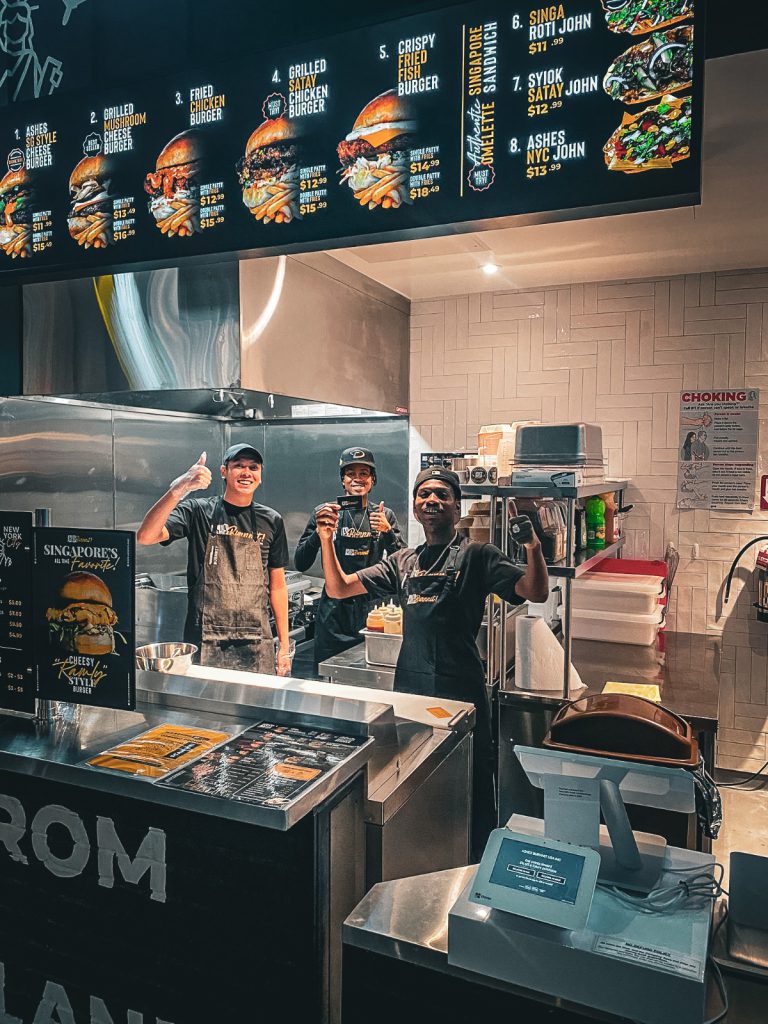 According to him, the business in New York has been fantastic. The first three months of operations were "crazy" thanks to extensive media coverage — they were featured as one of the top 10 burger places in a New York publication.
He added that AshesBurnnit in New York has achieved a high six-figure monthly revenue within just a few months of operation. Meanwhile, in Singapore, they are earning around five figures on average per outlet and hitting six figures per month across the whole company.
Following this good traction, people are approaching Syafiq with expansion opportunities. Some have offered franchise business opportunities, while others have proposed a partnership basis, where they fund the capital, and AshesBurnnit operates outlets for them.
Urban Hawker also has plans to operate a similar concept somewhere else in the US. AshesBurnnit was one of the first businesses to be approached, and this marks the possibility of them opening a second outlet in the US.
"The beauty of the US is that there are so many states that we can enter and we won't have an overlapping customer base. In contrast, Singapore is so small that we have the same customers visiting different outlets," he added.

Paving the way for younger entrepreneurs

Syafiq Lee, founder of AshesBurnnit / Image Credit: AshesBurnnit

Recounting his entrepreneurial journey thus far, Syafiq stressed that starting a business is never easy.

He talked about the various "walls" or challenges he had to face, particularly learning the nuances of running a hawker stall — this includes figuring out how to operate a hawker stall, deciding on the menu, setting up the stall, and determining how much capital to invest.

He noted that when he asked their business neighbours for advice, they refused to disclose specific information. Understanding this frustration firsthand, Syafiq hopes to pave the way for next-generation entrepreneurs to have an easier time in starting their own ventures.

He believes that young hawkers can learn a lot from AshesBurnnit about the ins and outs of the business, and now, they are equipped to also impart their knowledge on overseas expansion.

When asked about his strategy to outlast in the competitive F&B industry, Syafiq emphasised the importance of food quality and innovation. Due to the fact that the F&B landscape is constantly evolving, it is crucial to stay ahead to the curve to remain relevant.

To this end, he launched a sister brand of AshesBurnnit called Sembarang Nasi Lemak in late 2022. The recipe for Sembarang Nasi Lemak is inherited from Syafiq's grandmother, which is uniquely cooked with ghee.

Syafiq noted that Sembarang Nasi Lemak is the first time that AshesBurnnit has ventured out of the hawker setting and into a cafe setting. Much like AshesBurnnit, Syafiq plans to ramp up expansion for this new F&B brand.

He is planning to open the next Sembarang Nasi Lemak outlet in a hawker or coffee shop setting, taking inspiration from how CRAVE Nasi Lemak and Boon Lay Power Nasi Lemak expand their businesses.

Looking further ahead, Syafiq hopes to eventually open a standalone outlet for AshesBurnnit with a more diversified menu. He envisions the concept as fast food with a local twist, which he believes will resonate with customers.

For now, he hopes to open or two more AshesBurnnit outlets in the coming months, particularly eyeing the East and North East areas of Singapore. He is currently "monitoring the situation" and will decide where to go next in the second half of the year.

Featured Image Credit: AshesBurnnit