India
Rajya Sabha fails to transact any major business for ninth day on March 24, 2023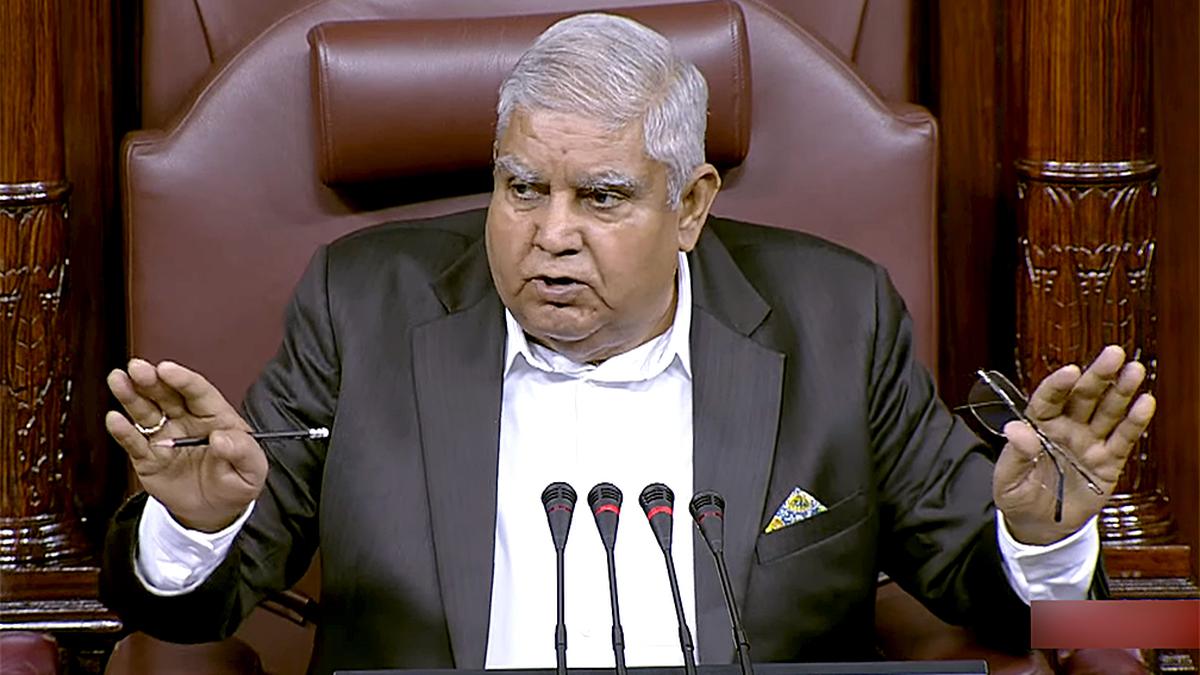 The Rajya Sabha was adjourned on Friday without taking up any major business for the ninth day in the second leg of the Budget Session.
Chairman Jagdeep Dhankhar warned that if the members did not use "parliamentary theatres" to voice public interest issues, the vacuum might be "filled otherwise" and that did not augur well for democracy. A private member's resolution seeking implementation of the Sachar Committee report was rejected.
The House functioned for 20 minutes in the pre-lunch session. The two sides sparred over the absence of Minister of State Darshana Jardosh, who was to lay papers belonging to the Textiles Ministry. He walked in later. Mr. Dhankhar ticked off the ruling benches, directing Leader of House Piyush Goyal to ensure presence of the Ministers. Just as Mr. Goyal was expressing regret over the omission, the Minister walked in. Congress MP Digivijay Singh interceded as Ms. Jardosh rose to spoke, saying that the Chair must not be briefed by the ruling side.
Chairman Mr. Dhankhar tried to humour the Opposition benches. "I remember an anecdote; when a judge got tired of the long-winded submissions of a lawyer, he asked the lawyer, "Can't you argue in brief? The lawyer went out." The anecdote was drowned in din.
Mr. Dhankhar rejected all 14 notices under Rule 267. AAP MP Raghav Chadha who had moved a notice to discuss the withdrawal of the red corner notice issued by Interpol against fugitive economic offender Mehul Choksi, asked the Chairman to set a new precedent by admitting his notice. Mr. Dhankhar rejected his appeal.
The afternoon session saw vacant Oppostion benches as several members had been detained after a protest demanding a Joint Parliamentary Committee probe into the Adani issue. Deputy Chairman Harivansh adjourned the House till 3.30 p.m. When the House reconvened, DMK's M. Shanmugam was the only member present in the Opposition benches.
The House took up a discussion on a private member resolution regarding "need to implement the recommendation of Sachar Committee Report" moved by Indian Union Muslim League MP Abdul Wahab. Mr. Wahab was absent when it was taken up. After a brief discussion, the House defeated the resolution on a voice vote. Minority Affairs Minister Smriti Irani said in her intervention that Mr. wahab's resolution casts an aspersion of inequality on the country and urged the House to reject it.
Mr. Dhankhar, reflecting on the ruckus in the House, later added that there will be thinking people in the country who will generate a climate and ecosystem, to persuade MPs that they must take their job seriously in national public interest and participate in the proceedings. "I am sure; there will be deep-thinking by everyone including Members of the House," he added.
Source link