India
Kiran Patel: New FIR in Ahmedabad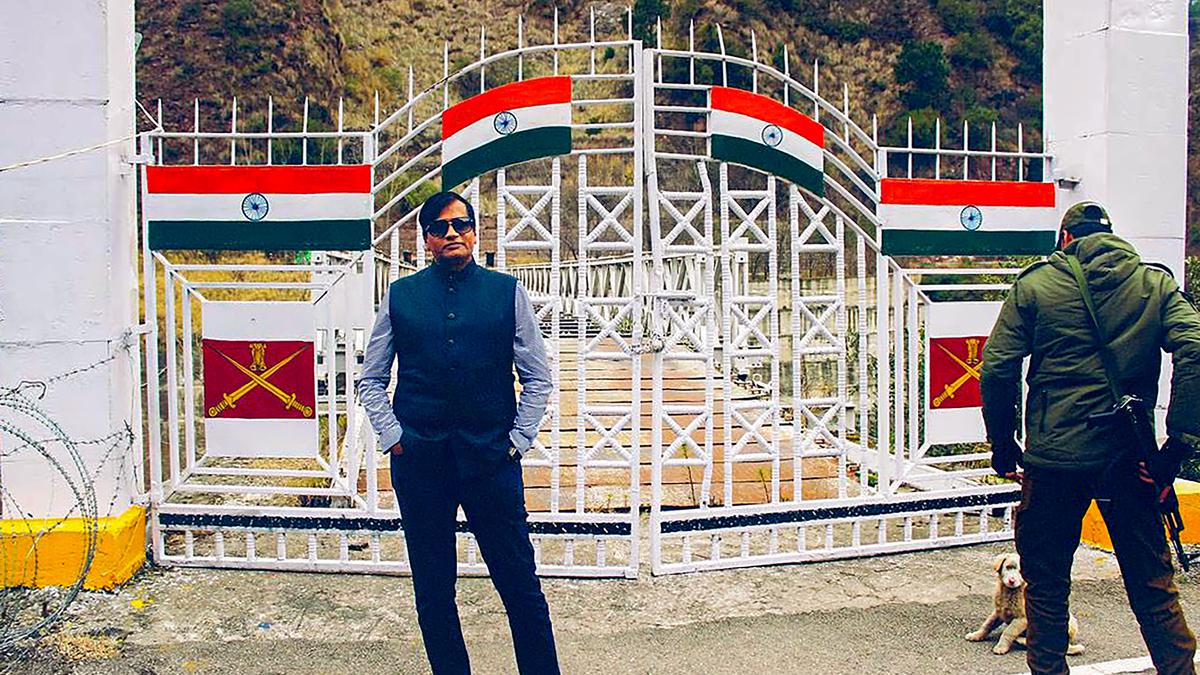 Acting on an old complaint, the Ahmedabad Police have lodged an FIR against the alleged conman Kiran Patel, who was arrested by the Jammu and Kashmir Police for impersonation, while posing as a senior official of the Prime Minister's Office (PMO).
In a related development, Additional Public Relations Officer (PRO) in the Gujarat Chief Minister's Office (CMO) Hitesh Pandya has resigned after the arrest of his son Amit Pandya, who accompanied Kiran Patel during the J&K trips.
Mr. Pandya was apparently asked to leave and he submitted his resignation on Friday evening. Earlier, the BJP had quietly removed Amit Pandya from the social media wing of the party, where he was in charge of the north Gujarat zone.
Amit Pandya is now in the custody of the J&K Police along with another aide Jay Sitapara. Amit supplies CCTV cameras and related products to the government agencies in Gujarat.
The alleged conman's episode of availing rare security cover and five-star hospitality of J&K administration while posing as a top- ranking PMO official, has startled the top political functionaries when the details of his sprawling network emerged with the involvement of people affiliated with the ruling party.
The new FIR lodged against him is for cheating and criminal conspiracy, as he allegedly tried to capture a bungalow of a senior citizen in Ahmedabad.
As per details, the Ahmedabad City Crime Branch has invoked Sections 420 (cheating), 406 (criminal breach of trust), 120-B (criminal conspiracy) and 170 (misrepresenting oneself as a public servant) of the Indian Penal Code (IPC) against the imposter.
Breach of trust
Moreover, the police said that Kiran Patel's wife, Malini Patel, has also been named as a co-accused in the FIR.
In the latest FIR, Mr. Patel has been accused of trying to grab a bungalow in a posh locality in Ahmedabad by winning the trust of its owner through false claims of being a "Class I officer in the PMO", and having close relations with politicians and bureaucrats.
The complainant is 63-year-old Jagdish Chavda, who owns a bungalow in the Shilaj locality of western Ahmedabad. He wanted to sell the property and Mr. Patel approached him in February 2022, claiming to be a real estate agent, and told the owner that his property would fetch a good price if it was renovated.
As per the complaint filed by Mr. Chavda, in order to win his trust, the swindler dropped names and identified himself as a "Class-1 officer in the PMO" as well as a partner in a cafe chain in the city.
When Mr. Chavda agreed for the bungalow's renovation, Mr. Patel, his wife Malini and an interior designer started the work and took ₹35 lakh in instalments from him, as mentioned in the complaint which has now been converted into an FIR.
Subsequently, Mr. Patel claimed ownership of the property and filed a civil suit in a local court.
Ahmedabad Crime Branch DCP Chaitanya Mandlik said, "According to our information, four cases related to cheating have already been registered against Kiran Patel in various police stations in Gujarat. Right now, he is in judicial custody, so we will try to bring him here through a transfer warrant."
According to sources, a few more complaints are likely to be lodged against him as the police have launched a probe in the activities of Mr. Patel and his aides, who routinely flaunted their political and bureaucratic connections to dupe people promising contracts and clearances from the government agencies.
"According to our information, four cases related to cheating have already been registered against Kiran Patel in various police stations in Gujarat" Chaitanya MandlikAhmedabad Crime Branch DCP
Source link