India
Fifth Scorpene-class submarine INS Vagir commissioned into Indian Navy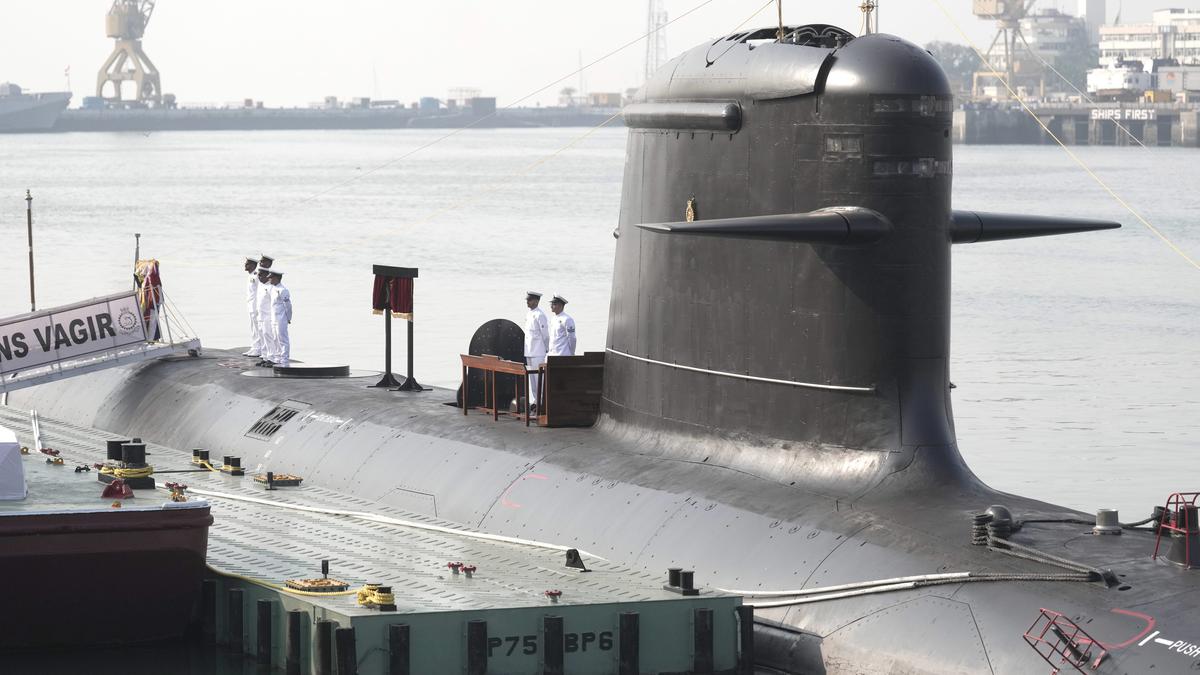 The fifth Scorpène-class conventional submarine was commissioned into the Indian Navy as INS Vagir in the presence of Chief of Naval Staff Admiral R. Hari Kumar at Naval Dockyard Mumbai on Monday. The sixth and last of the French-origin Scorpène-class submarines being built in India under technology transfer is set to be delivered to the Navy by end-2023.
With this, the Navy now has 16 conventional and one nuclear submarine in service. It includes seven Russian Kilo-class submarines, four German HDW submarines, five Scorpene-class submarines, and the indigenous nuclear ballistic missile submarine INS Arihant.
"Vagir will be the third submarine inducted into the Navy in a short span of 24 months. This is no small achievement and underscores the coming of age of India's shipbuilding industry and the maturing of our defence ecosystem. It is also a shining testimony to the expertise and experience of our shipyards to construct complex and complicated platforms," Adm Kumar said speaking at the commissioning ceremony. "These aspects also serve to reinforce the Indian Navy's unequivocal commitment and steadfast resolve to be a fully Aatma Nirbhar force by 2047."
The Navy Chief further complimented the submarine's Commanding Officer and his team for pushing through "all major trials, including those of weapons and sensors, within a short span of just eleven months."
The name Vagir is a reincarnation of the erstwhile Vagir which was commissioned on November 01, 1973 and was decommissioned on January 07, 2001 after serving the country for three decades. Vagir takes its name from the 'Sand shark', a deadly deep-sea predator of the Indian Ocean. In the Navy, it is a time-honoured naval tradition that 'old ships & submarines never die,' Adm Kumar noted.
Vagir was launched into water on November 12, 2020 and commenced sea trials on February 01, 2022.
The sixth and last of the Scorpène-class submarines, Vagsheer, being built by Mazagon Dock Shipbuilders Limited (MDL) was launched into water in April 2022 and is expected to be delivered to the Navy by end 2023.
Six Scorpene submarines are being built under Project-75 by MDL under technology transfer from Naval Group of France under a $3.75 bn deal signed in October 2005. The project is about four years behind schedule. The first submarine INS Kalvari was commissioned in December 2017, second submarine INS Khanderi in September 2019, third one INS Karanj in March 2021 and the fourth one INS Vela joined service in November 2021.
Parallelly, the tender to build six more advanced conventional submarines under Project-75I is in the Request For Proposal (RFP) stage but has suffered delays. Navy officials said recently that the concerns of the submarine manufacturers have been addressed and progress is expected soon.
With delays in submarine induction, the SSKs – 209s (German HDWs) and EKMs (Russian Kilo's), are being put through the Medium Refit Life Certification (MRLC) process which will give them additional life of 10 to 15 years.
The Navy has drawn up plans to install Air Independent Propulsion (AIP) modules on all Scorpene submarines as they go for their refit beginning with INS Kalvari in the next couple of years to enhance their endurance. The development of an indigenous AIP module developed by the Defence Research and Development Organisation (DRDO) is in the advanced stages.
Source link