movie-reviews
Where Do You Know 'The Great British Bake Off's New Host Alison Hammond From?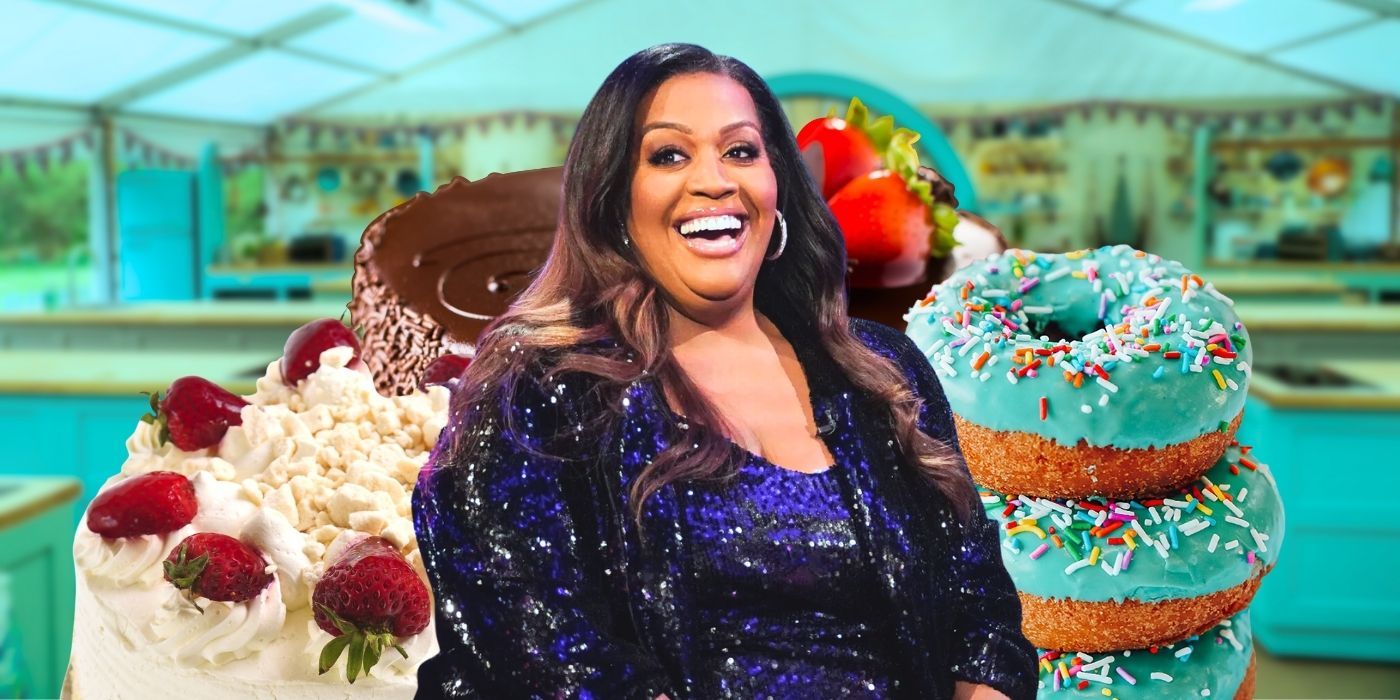 The Great British Bake Off is saying farewell to one of its presenters, Matt Lucas, who announced he was unable to juggle all his commitments amidst his reboot of Fantasy Football League and his new show with old collaborator David Walliams. As a result, Bake Off has recruited its new presenter Alison Hammond to replace Lucas for the upcoming season. Some non-British fans might recognize her name or face, but find it difficult to place where they've seen her before. Over her 21-year career as a TV presenter, Hammond's disarming humor has made for some viral internet moments time and time again. Here are some instances you're likely to recognize Alison Hammond from.
RELATED: Why Do We Keep Coming Back to 'The Great British Bake Off'?
Hammond Has Harrison Ford in Stitches
Perhaps most famously, Hammond made headlines for her interview that made even the stone-faced Harrison Ford laugh hysterically. When tasked with interviewing him and Ryan Gosling for Blade Runner 2049 back in 2017, Hammond began the interview preamble by impressing Gosling with authentic prop whisky glasses from the original film. "That's so cool that you did that," Gosling commended, as Ford was getting his microphone adjusted. "Are you a fan of the original?" he asked, to which she answered, "Never seen it." Gosling and Hammond burst out in laughter and the interview's hilarious tone was established from the start.
"This is not the introduction we were promised," joked Ford. Hammond did her best to restore professionalism to the interview, but Ryan Gosling proceeded to pour booze into the prop glasses and soon after, Hammond was joining him. With everyone laughing hysterically, even Harrison Ford eventually joined in the drinking despite the early morning hour the interview took place. This is a prime example of Hammond's disarming and endearing quality that makes for entertaining videos, even if the interview itself barely took place!
Mrs. Alison "the Rock" Johnson
Also in 2017, Hammond interviewed Dwayne "The Rock" Johnson for his movie Baywatch. During it, she took off her clothes to reveal a lifeguard costume underneath, to which Johnson laughed joyously. When she brought up the rumors of his 2020 presidential campaign, Hammond suggested Johnson needed a First Lady. "You could propose to me. The Rock could give me a rock!" Pulling a ring from her cleavage, Hammond set the stage for the interview's climax in which Dwayne Johnson proposed to Alison Hammond. "The prenup is coming," joked Johnson. "It's the size of an encyclopedia!"
Later that year, during press for Jumanji: Welcome to the Jungle, Hammond was tasked with interviewing The Rock again, this time accompanied by his co-star Kevin Hart. She began by calling Johnson her fiancée, then proceeded to inform them that in the "two-hundred-and-seven days" since the Baywatch interview, she got Kevin Hart ordained online so that he could officiate the ceremony. After a quick costume change, Hammond reappeared in a wedding gown, and she and The Rock were married by Hart at the interview's climax.
However, all good things must come to an end, and in 2021 during press for Jungle Cruise, Johnson announced on the red carpet that his real-life marriage meant he had to "divorce" Alison Hammond. A This Morning segment ensued in which Hammond played the role of a heartbroken dump-ee to hilarious results. A real-life Marriage Story if ever there was one!
Hammond Gets in the Middle of the Ryan Reynolds – Hugh Jackman "Feud"
She first interviewed superstar Ryan Reynolds for his role in Green Lantern, which was followed by countless meetings with X-Men's Hugh Jackman. In a 2017 interview with Jackman, he and Alison agreed their chemistry was unrivaled, and Hammond announced that it wasn't an interview after all, but rather, a date! Their chat continued over champagne, and they even fed chocolates to each other. Naturally, their bond made waves on the internet, and Hammond's soft spot for Jackman was firmly established.
Hugh Jackman and Ryan Reynolds enjoy somewhat of a fake rivalry in the media. The real-life friends both headline X-Men franchises, with Jackman famous for playing Wolverine and Reynolds famous for Deadpool. Both men also own drink companies with Reynolds owning Aviation American Gin and Jackman owning The Laughing Man Coffee. Their respective PR campaigns often overlap, pantomiming a feud to everyone's delight.
In 2021, Hammond got in the middle of their feud to stir the pot when she interviewed Reynolds about his purchase of Welsh football team Wrexham AFC, among other things. To celebrate his new venture with co-owner It's Always Sunny in Philadelphia's Rob McElhenney, Hammond taught Reynolds some Welsh phrases, including one which forced Reynolds to admit "I wish I had the body and charisma of Hugh Jackman." Her loyalty to Jackman remains strong.
Her 'Bourne Identity' Chase Through Italy
Other honorable mentions include a This Morning segment from 2018, in which Hammond was tasked with reporting the weather atop an inflatable map of the British Isles. In trying to jump from "Scotland" to "Northern Ireland", Hammond accidentally knocked a man into the water of Liverpool's Albert Docks. In 2020, Hammond interviewed a tree with the help of a "tree whisperer," and in 2021 she went viral yet again for laughing hysterically when Barry Humphries congratulated heterosexual Dermot O'Leary for coming out (mistaking him for Phillip Schofield).
Other famous faces interviewed by Hammond include action heroes Arnold Schwarzenegger, Idris Elba, and Keanu Reeves. Her real life became an action scene in 2019, though, when Hammond was almost arrested by the Italian police live on TV. After filming the Leaning Tower of Pisa without a permit, she was chased out, then continued to push her luck resulting in her running down the street. When the show cut back to Alison, she was in disguise, claiming "my holiday has turned into The Bourne Identity. I've just had to go on the run!"
Alison Hammond's Own Attempt at 'Bake Off'
Lastly, who could forget her turn as a contestant on 2020's Celebrity version of The Great British Bake Off for Stand Up to Cancer? That's right, Hammond's upcoming gig as a presenter won't be her first time in the tent. She competed against Richard Dreyfuss, Louis Theroux, James Blunt, and Queer Eye's Tan France to name but a few. During the competition, Hammond remained cool, calling herself "a natural baker," amazed at how smoothly everything was going. Judge Prue Leith even stated, "in three years, I don't think we've ever met anybody with this much confidence!"
In a hilarious turn of events though, as is custom with any Alison Hammond appearance, something unexpected occurred. As she leaned to place her brownies in the oven, she was taken aback. "Where's the door gone?" Confused by the fancy oven door's compact feature, Hammond had everyone laughing at her bewilderment. Another iconic Alison Hammond moment for sure. Here's hoping her new job as a presenter on the show will provide us with many more to come.
Source link