Cars
CT-2 Tiny Urban Electric Vehicle: Israeli startup displays tiny EV with width adjusting technology; to be priced at USD 16K, Auto News, ET Auto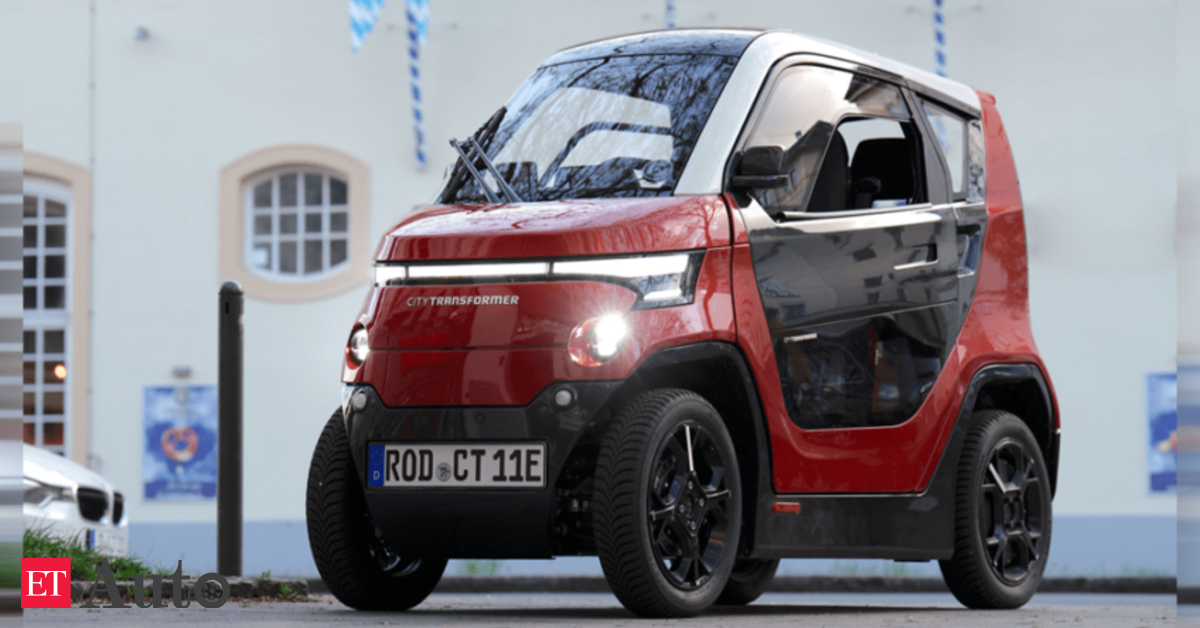 An Israeli startup City Transformer has displayed its CT-2 tiny urban electric vehicle (EV). The compactness of the car makes it very convenient for parking even in crowded areas. City Transformer says that four CT-2s can be parked in the same space as a modern conventional four-wheeler would occupy. The 1-meter wide CT-2 would easily fit into most of the byways and alleyways, the company said.
The company intends to begin mass production of CT-2 in late 2024. It has a manufacturing base in Western Europe, and according to reports, it will initially launch sales there. CT-2 is rumoured to be priced at around USD 16,000 (about INR 13 lakh). The price might drop if the business is successful in obtaining subsidies for the clients, the company said in a media release.
The CT-2 width can be adjusted in accordance with the two modes of City and Performance, according to the company website. For parking in small areas, the vehicle's chassis may be folded down to 1m wide in the first mode. The CT-2 can outwit motorbikes in crowded traffic when the chassis is folded. Referred to as Active Width Adjustment technology, it is compatible with a variety of electric vehicles designed for certain usages, from last-mile delivery to shared fleets. The width of the chassis grows from 1 m in City mode to 1.4 m in Performance mode.
The City Transformer uses two 7.5 kW electric motors to power its performance. Although the vehicle's battery capacity has not yet been revealed, the manufacturer says that it can go 180 km on a single charge. Additionally, CT-2 has a peak speed of 90 km/h and can accelerate from 0 to 50 km/h in 5 seconds. According to the manufacturer, this shape-shifting vehicle is perfect for quick maneuvers due to its 8.5 m turning diameter.
City Transformer says that CT-2 needs 90% less components than a typical ICE car and 50% fewer parts than a typical EV due to its tiny size. As a result, it has a footprint that is 75% less than comparable conventional cars now on the road. As a result, CT-2 is not a family car and can only fit a driver and a passenger at the most, the release said.
Also Read: