Cars
2021 Renault Kiger SUV 1.0 Energy review, test drive
Does the less powerful, naturally aspirated Renault Kiger still provide a well-rounded package?
Earlier this year, the Renault Kiger claimed the title of the most affordable compact SUV in India, and the version that allows it to have such a competitive starting price is its entry-level engine – a 72hp, 999cc, three-cylinder naturally aspirated petrol. While we have driven the turbo-petrol variant before, we have only just got our hands on this variant, and what we aim to find out is whether it feels like a compromise, or is an all-round great value deal.
2021 Renault Kiger 1.0 Energy: design
The naturally aspirated (NA) Kiger 1.0, known in the brochure as the 'Energy', is virtually identical to its turbo-petrol counterpart on the outside, with the only differentiating factor being the lack of the 'Turbo' badging. So, for your money, you still get the sporty and almost SUV-coupe-like styling, with its raked windscreen and tapered roof. At first glance, the front end is reminiscent of the Kwid, with its grille design and split headlights, which might put off some potential buyers. But, there are plenty of differences like a more muscular shape, more expensive-looking details, a distinct spoiler and the sculpted C-shaped LED tail-lamps. The top-spec also sports an attractive set of 16-inch diamond-cut alloy wheels.
2021 Renault Kiger 1.0 Energy: interior and features
Step inside and you'll see a neatly styled interior with premium looking touches, like a dull bronze finish on the dashboard, gloss black on the centre console and bits of chrome here and there. While the cabin is well laid out for the most part, there are a few ergonomic issues such as the off-centre steering wheel, position of the power window switches, front seatbelt buckles and the cupholders in the centre console, all of which are quite fiddly to access. Similarly, though there are numerous storage spaces, including two gloveboxes, they aren't particularly spacious or practically designed. Keeping the Kiger's price in mind, the fit and finish as well as quality of materials is acceptable, though there is far too much hard, shiny black plastic around the cabin; a bit more visual relief would be welcome.
The driver's seating position in the Kiger is nice and high, and the front seats are quite supportive and accommodating even for larger drivers, if a bit on the firm side. The rear seats too offer impressive amounts of kneeroom and headroom, although the low-set seat, rising window line and all-black colour scheme can make you feel a little cooped up. The top-spec Kiger 1.0 Energy RxZ we drove came well equipped, with features like a responsive 8.0-inch touchscreen with wireless Apple CarPlay and Android Auto, a slick 7.0-inch digital instrument cluster, a cooled glove box, automatic climate control and driving modes. What's more, though our test car doesn't have it, the Smart+ pack, for a small amount more, gets you features like a wireless phone charger, an air purifier, puddle lamps and front parking sensors.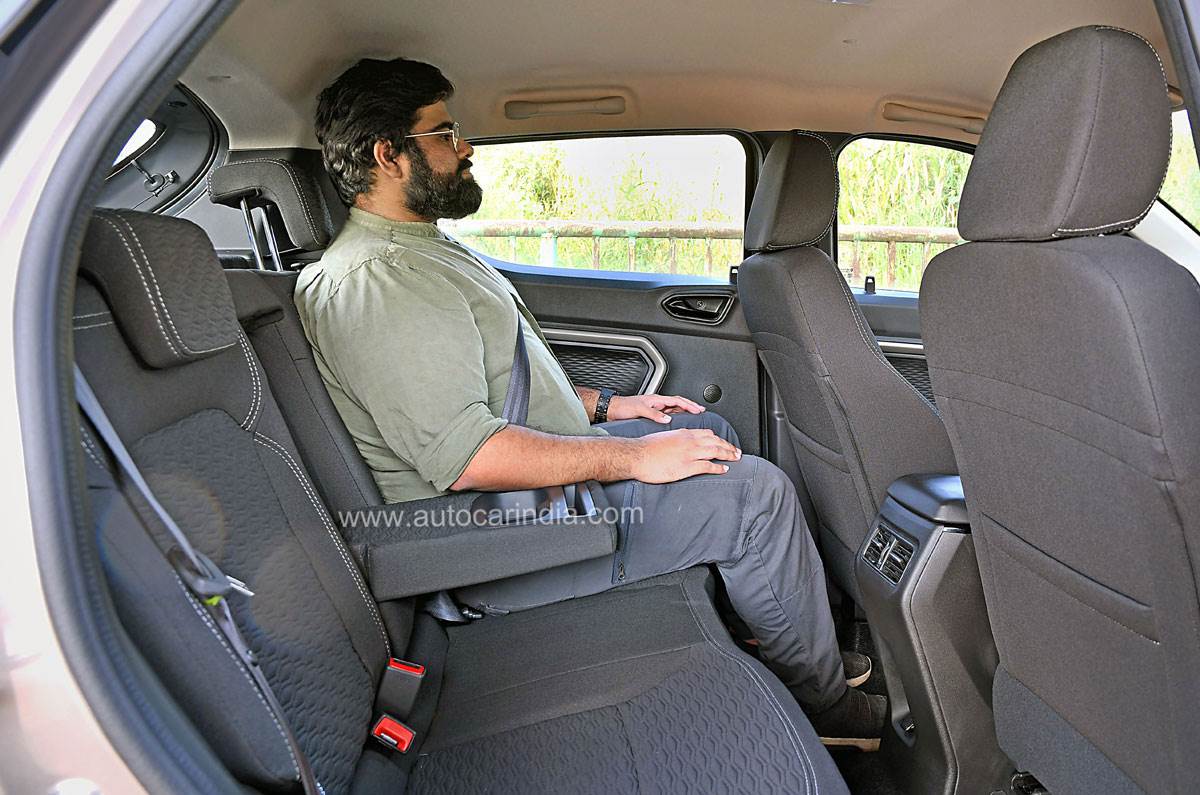 2021 Renault Kiger 1.0 Energy: engine, ride and handling
The crux of this review is the 1.0-litre, three-cylinder naturally aspirated petrol engine that lies under the hood. Similar to what you'll find in a Renault Triber, it develops 72hp and 96Nm, which come in at 6,250rpm and 3,500rpm, respectively.
As the power figures clearly convey, this iteration of the Kiger doesn't deliver the strong performance of its turbocharged counterpart. That said, in most mundane driving situations, it won't disappoint. It feels quite sprightly off the line, thanks in part to this car's light, sub-one-tonne kerb weight, and gets moving smoothly, with no sudden spike in power as you would get with a turbocharged engine. Drive it in a laid-back manner and the Kiger Energy delivers adequate performance in urban use. However, the second you demand any urgency from it – for instance, to perform a quick overtake or close a tight gap – it leaves you wanting.
This engine has a discernible dull-spot in the middle of its rev range and you really have to work the 5-speed manual gearbox to get the most out of this engine. This issue is even more pronounced at highway speeds, but on the plus side, the gearshift action is quite light. The clutch, though not too heavy, has a long travel and a sharp bite point, which takes a little getting used to. There is also a 5-speed AMT available that would make city driving easier.
It's really impressive that a car at this price point has drive modes, and there is a notable difference from one to the next, more so than even the turbocharged models, which tend to feel the same once the boost comes on. It defaults to Normal when you start it up, and this is the mode most will find themselves using. Sport adds a bit more urgency off the line and is the one you'll want to use if you're in a hurry or want to have a bit of fun. Eco, sadly, dulls responses so much and makes progress so jerky, it's better ignored altogether.
The ride is a touch on the firm side, though the way the suspension is set up, it deals with road imperfections very well, with only some of the larger potholes filtering through. The Kiger also feels pretty stable at highway speeds. Refinement, however, is an area the Kiger could improve on as road and engine noise are very audible in the cabin, especially as you build speed.
Show the Kiger some corners and it will leave you impressed with the grip on offer and the extent to which the body roll is contained. The steering is quite light at low speeds making it great around town, but it requires too many turns, lock to lock, which means it falls short of being a fun handling package.
2021 Renault Kiger 1.0 Energy: should you buy one?
The naturally aspirated Kiger is priced between Rs 5.64 lakh-8.11 lakh (ex-showroom, Delhi), which is on par with most premium hatchbacks. For this price, it delivers almost everything its more expensive rivals do, with the only major caveats being performance and refinement. If you are on a budget and are looking for a compact SUV that offers a tonne of features, plenty of practicality, and will primarily be used within the city, then the naturally aspirated Kiger fits the bill. However, if you plan of travelling long distances, or want something that offers a more thrilling driving experience, then you would be better upgrading to the turbo-petrol variant.
Source link